Four dangerous convicts escape from Kisumu prison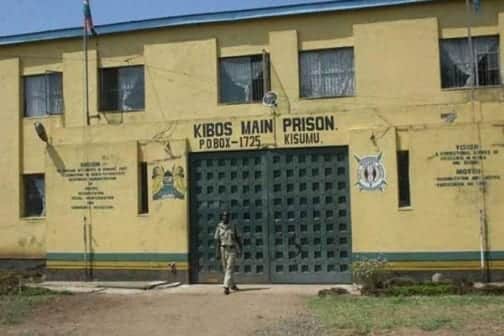 Kisumu, Kenya: The Police and Prison departments have launched a major  security  operation in Kisumu as they pursued  four 'dangerous' convicted criminals,  who had escaped  from the  Kibos  Prison at dawn.
Among those on the run was  a hard core  criminal  who  had  been indicted  for killing a fellow  inmate.
The jailbirds broke out of prisons by cutting the window grills of their cell before climbing over the five meter-high prison perimeter wall using blankets and sheets, according to Nyanza regional prisons commander Amos Misik.
The four were serving jail terms ranging from 20 years  to Life imprisonment.
Mr Misik said the prisoners used what is believed to be a hack saw to cut the metallic grills, leaving behind two fellow inmates. He however added that they did not recover any leads at the scene but investigations were on.
"Our sentries spotted them jumping over the wall and fired three shots but they managed to escape," he said, "We have launched investigations to establish how they managed to cut the grills."
He said they were interrogating the two inmates who remained behind as they seek to unearth how the escape which seemed to have been "carefully plotted" happened.
He added that they were also investigating how the tool used to cut the grills entered the highly guarded prison. He did not rule out collusion with the warders.