Police net illicit liquor in prominent senior politician's house in Nakuru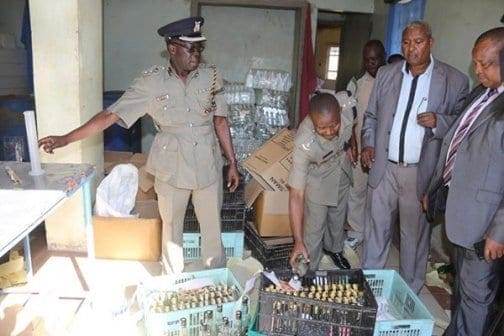 KENYA: Police in Nakuru have impounded several litres of assorted second generation liquor of unknown value in a house belonging to a prominent politician in the country.
Led by Nakuru OCPD John Omukata, Nakuru DCIO Henry Kiambati and Nakuru sub-county deputy county commissioner Elmi Shaffi, the officers stormed at the premise located at the posh Milimani estate within the outskirts of the town last night and discovered the consignment following a tip off from members of the public.
Seven suspects were arrested in connection with the consignment which included several drums of Ethanol, distilling apparatus and bottle cocking machines were also netted during the 11pm raid.
"We thank the members of the public for giving us the information, I gathered my officers and we raided the premise and we recovered the items," said Omukata.
He however said the owner of the premise and the brew are still at large and police are still conducting investigation over the same.
"We did not manage to arrest the owner of this premise and the owner of the alcohol but we are conduction our investigation but once we arrest them, we will arraign them in court as soon as possible," said Omukata.
Shaffi said the owner of the house was a prominent politician but were not sure if the consignment belonged to him.
"The owner of this premise is known. He is prominent senior politician in the country but we can't identify him till we finalize our investigation. We need to clearly verify though we understand he has leased out for Alcohol packaging," said Sgaffi, adding that both the owner of the premise and the person doing the business will face the law.
He regretted that the same illicit brew is the killer brew that has consumed many lives of youths in Nakuru and cautioned those operating that police will pursue them regardless of their social status.
He warned that the operation will target even the posh estates of Nakuru town and its environs.
Among the brands of liquor netted include gold star, gold tyms, summer ice lite, blue rider, the chase, sparkler and survivor.