Uhuru ahead of Raila in new opinion poll ranking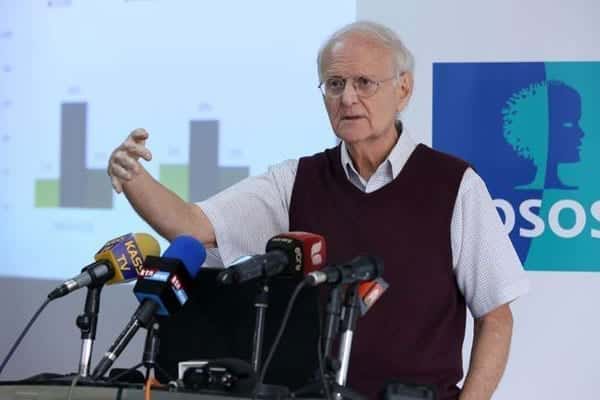 President Uhuru Kenyatta is ranked in a new opinion poll ahead of opposition leader Raila Odinga as the person best suited to deal with the main governance issues facing the country.
The survey, by Synovate Ipsos, found that the President is favoured to bring about economic development, combat negative ethnicity, reduce corruption and inequality and defend the Constitution.
Forty-one per cent of those polled said the President had done well to promote economic development but opined that he needed to step up the fight against corruption while only 33 per cent said they were confident he had the will to stop graft.
The survey, conducted between June 4 and 18 this year with a random sample size of 2,067 respondents, also revealed that Mr Odinga was viewed as the next best candidate to fight corruption and defend the Constitution — scoring 30 per cent in both areas against Mr Kenyatta's 33 per cent and 37 per cent, respectively.
Dr Tom Wolf, the lead research analyst at Ipsos, said the President had been scored well in combating negative ethnicity, probably because from the beginning the Jubilee administration had positioned itself as a party that wants to bring Kenya together.
The other leaders ranked in the poll include Amani Coalition presidential hopeful Musalia Mudavadi, who scored an average of two per cent in fighting corruption and defending the Constitution, and the other two Cord principals Kalonzo Musyoka and Moses Wetang'ula, who got an average of three per cent each.
RECEIVED MIXED REACTION
The study, which received mixed reactions from political leaders on Tuesday, showed Kenyans are divided on Mr Odinga's political future.
Thirty-five per cent of those interviewed want him to totally retire from politics, 34 per cent want him to remain active within the party and even run for State House while 26 per cent want him to stay within the party but not contest the presidency.
On Mr Odinga's political future, however, a sharp contrast of positions emerged between Jubilee and Cord supporters. Sixty per cent of Jubilee supporters said the ODM party leader should retire from active politics as opposed to 69 per cent of Cord supporters, who said they would wish to see him run for the top-most elective post.
The opposition coalition fared badly on the political loyalty scene, with some of respondents reporting that their Cord-aligned Members of Parliament had indicated in the recent past that they could worm their way to the Jubilee side of the divide.
Of the 33 per cent of respondents with a Cord MP, 73 per cent said they believed the legislators had remained steadfast in the coalition but 13 per cent said their representatives in Parliament had crossed the ideological divide to join Jubilee. Twenty-nine per cent of Jubilee supporters under a Cord MP believed their leader might join the ruling coalition.
About half of Kenyans — 43 per cent — think that MPs crossing over to either side were doing so more for personal benefit than public interest. This view was shared by 57 per cent of Cord supporters as opposed to 23 per cent of Jubilee-allied voters. Cord has in the recent past suffered a series of internal rifts between its leaders in western Kenya and the Coast.
SHARING NATIONAL CAKE
However, those who jump ship might not necessarily get re-elected as 71 per cent of Cord supporters believe that such leaders do not deserve their posts, against 72 per cent of Jubilee supporters who say they will be voted back.
While supporters of both the opposition and the ruling coalition are evenly matched in their confidence in their parties, they, interestingly, do not think the outfits represent the interests of the ordinary Kenyan. Fifty-one per cent of Cord supporters are unsure about the honesty of the party ranks, against Jubilee's 48 per cent.
Dr Wolf pointed out that it was quite telling that Kenyans are willing to be seen to associate with a certain political outfit even when they have no confidence in it.
More Cord supporters (58 per cent) than Jubilee die-hards (48 per cent) believe they are likely to benefit more from the sharing of the national cake, especially on employment as resource allocation, when people from their ethnic backgrounds are in power.
The highest levels of agreement with this suggestion is found in the 'marginalised' areas — North-Eastern (65 per cent), Western (61 per cent) and Coast (58 per cent) with the lowest in Central (42 per cent).
Meanwhile, Kenyans believe that having a candidate who is prepared to fully disclose their wealth and how it was acquired is more likely to successfully combat corruption.
On this issue, Cord and Jubilee supporters were evenly matched, with 78 per cent of respondents agreeing.
-nation.co.ke