VIDEO: Why 14-year old Boy Wants Uhuru to Punish His Aide
VIDEO: Why 14-year old Boy Wants Uhuru to Punish His Aide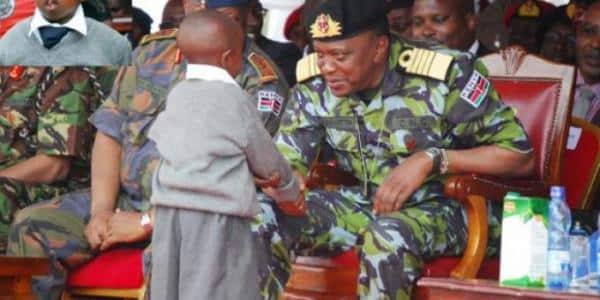 A 14-year-old boy has made dumbfounding accusations against a State House official assigned by President Uhuru Kenyatta to take care of his family and an education scholarship the head of state offered him.
Dennis Ngaruiya, who came to the public limelight after he performed a funny poem that warmed the president's heart, disclosed that Kenyatta's aide who he identified as Wanjohi failed to fulfill a pledge to assist his poor mother.
In a report by K24 the form one student expressed his sadness over the broken vow made two years ago.
Ngaruiya pleaded with the President to take action against Wanjohi, who had allegedly went against Kenyatta's word to his family.
His mother, Damaris Wambui divulged that the aide dodged her severally when she tried to follow up on the promise made to them.
She, however. thanked the president for helping her son pursue his education at Menengai High School adding that the aide tasked with assisting the family stabilize economically to deliver on the same.
In 2014, Ngaruiya impressively entertained President Kenyatta during the Kenya Defence Forces Day celebrations at 3KR Barracks in Lanet, Nakuru.
Hi comical performance earned him an invite to State House where Kenyatta offered support in his education up to University level.
VIDEO: Why 14-year old Boy Wants Uhuru to Punish His Aide