I clashed with Kivuti after devil visited me in person – Mbarire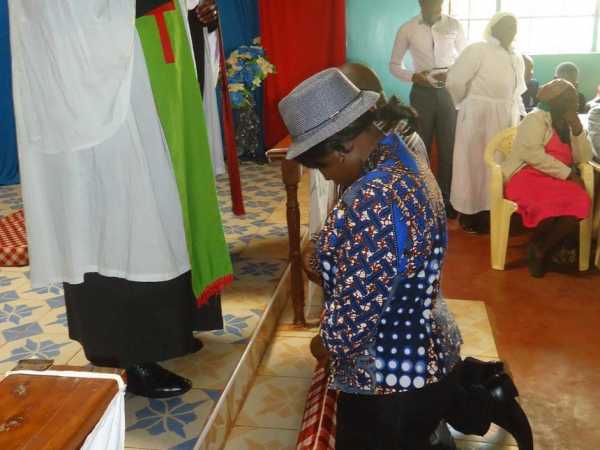 My public altercation with Embu Senator Lenny Kivuti was caused by the devil who visited me, Runyenjes MP Cecily Mbarire has said.
The two governor aspirants clashed at Karurumo on September 18.
"The devil visited me recently in my place at Karurumo. He did not send a representative. He came personally and because he was glaring at me, I also had to glare at him to fight him off," Mbarire said.
She was speaking at the National Independent Church of Africa at Kairuri, Embu North. It was the first time Mbarire spoke about the public spat. She said she prays that the devil does not visit her again because she does not want to fight with Kivuti again. Mbarire said she wants to seek votes with God's guidance.
She said she has a difficult time contesting the seat against four men. The MP said in most cases, Kenya women seeking political seats are not judged according to to their intellectual capacity. She said they face male chauvinism.
"For the 15 years I have been in politics, there is no name I haven't been called, except those not in the Embu dictionary. I have gotten used to the insults but I have always sought God's assistance. That is why I have succeeded in my politics," Mbarire said.
She said she will soldier on despite the prejudice she experiences as a woman. Mbarire said she is sure of winning as she has in her Runyenjes constituency for 15 years.
She said the county needs a woman governor who is brave.
The MP said she will bring the much-needed change in the county and stop misappropriation of public money.
Mbarire and Kivuti jostled for a microphone and shouted at each other during the fundraiser in Mbaririe's constituency.
Each tried to address charged supporters.
"Siste for governor, Siste for governor, Siste for governor!" Mbarire's supporters shouted.
The confrontation lasted 40 minutes. The two left without giving their donations.
The police had a difficult time trying to separate the two groups of the supporters some who were exchanging brows and kicks as the two leaders shouted and told each other off.