EXCLUSIVE: Waititu Forced to Jump Over Barriers at Jubilee Launch [VIDEO]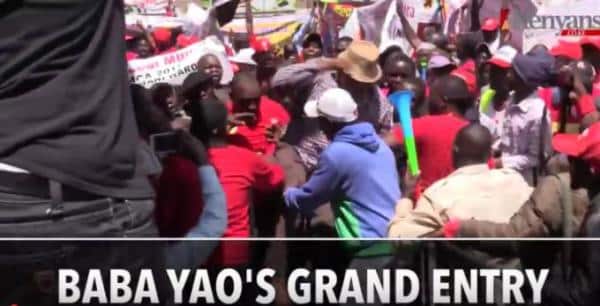 Kabete Member of Parliament Ferdinand Waititu has in the last years built the dubious brand of the rough and crude man of Kenyan politics.
Having grown up in Kibera, Waititu is perhaps the best example of the old adage, 'you can take a man out of a village but you cannot take the village out of a man'.
During the Jubilee Party Launch held at Kasarani, the man popularly referred to as 'Baba Yao' was in his usual element with a dramatic entry that soon turned chaotic.
While his colleagues and other dignitaries made a quiet entry before taking their position at the dais, Baba Yao entered the stadium grounds to a wild reception where hundreds of rowdy youth surrounded him.
His supporters went ahead to carry him up in the air as they danced songs in praise.
However, the joyous moment was soon ruined as suspected goons took advantage of the situation, roughing up Mr Waititu while others tried to empty his pockets.
When the situation got out of hard, Baba Yao quickly jumped over the barriers before running his way to the VIP dais.