VIDEO: Show of might, jubilation as delegates unite in 'Tuko Pamoja' chorus

VIDEO: Show of might, jubilation as delegates unite in 'Tuko Pamoja' chorus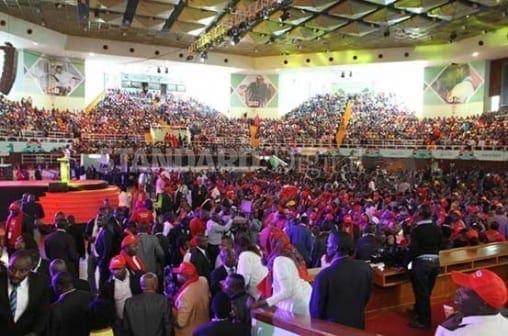 The Jubilee coalition yesterday put out a spectacular display of show of might when 10,000 delegates of 11 political parties converged on Kasarani Stadium a day after passing resolutions to dissolve and merge under Jubilee Party (JP).
And as Jubilee was making their intent clear yesterday, the Orange Democratic Movement (ODM) was preparing for a jamboree in Mombasa which will start today — the party will hold a series of road shows and rallies in week long activities to mark its tenth anniversary celebrations (See story on Page 10).
In Nairobi, Kasarani was awash with red, which is JP's adopted colour, and this dominated the branding of vehicles, merchandise and the building that was heavily guarded as delegates streamed in.
The party's steering committee co-chairs Kiraitu Murungi and Noah Wekesa indicated that Sh300 million would be spent on the launch which peaks tomorrow when President Uhuru Kenyatta unveils the new party.
Yesterday, it emerged that Sh90 million was set aside for the delegates with each earning Sh3,000 per day for the three-day event. There were complaints over payments but this was resolved when Deputy President William Ruto stepped in and the ceremony proceeded smoothly.
Flashy red, yellow and black-coloured Toyota Land Cruiser Prado SUVs, 47 of which were branded at a Nairobi hotel this week, ferried some of the delegates to Kasarani — mainly MPs, governors and senior officials of the parties that dissolved on Thursday.
Most of these vehicles were hired, a Jubilee official said.
"We hired vehicles at a cost of Sh12,000 a day for five days. Some of the delegates also donated their vehicles to be branded at Sagret Hotel," he noted.
The fanfare surrounding the launch of JP — which will be President Kenyatta's reelection vehicle in 2017 — began to build up when the party unveiled its new headquarters in Pangani, Nairobi this week.
The rented eight-floor building with billboards has attracted party supporters.
National Assembly Majority leader Aden Duale, previously of URP, said the party had received a lot of support from well-wishers.
"We are renting the new party headquarters while the billboards have been paid for by our friends," Mr Duale said.
The building will now house the JP headquarters where all party affairs will be handled, including nomination disputes.
VIDEO: Show of might, jubilation as delegates unite in 'Tuko Pamoja' chorus