Fresh Details Reveal How Raila Betrayed Kalonzo, Wetangula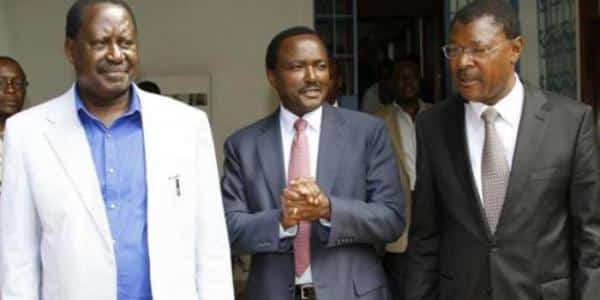 Fresh details have emerged explaining why there has been a growing discord between CORD co-principals Raila Odinga, Kalonzo Musyoka and Moses Wetangula.
New revelations now indicate that the move by ODM to hold its 10th-anniversary without involving their CORD partners was the cause of bad blood between the three leaders.
Sources within the Wiper and Ford-Kenya Parties, who spoke to the Nation, divulged that Kalonzo and Raila had a meeting before he flew to Mombasa on the need to hold the rallies as a CORD function.
According to an MP privy to the matter, after the 10 at 10 celebrations in Mombasa, Odinga had promised not to hold other rallies as ODM alone, only for them to head to Kisumu County.
"Mr Odinga promised that after the Mombasa function, there will be no other celebration with ODM alone but they have since been going it alone," said the source from Wiper.
Wiper Chairman David Musila on Monday revealed that ODM's stand that the CORD flag bearer be named in February next year was contrary to what had been agreed earlier by the three principals.
Musila also revealed that ODM was undermining Kalonzo and Wetangula through stating that Raila must be the flag bearer.
"If  MPs from ODM can talk and state that Raila must be their candidate, what do you make of others in the coalition," Musila posed.
Musila added that despite efforts to hold meetings with ODM to settle the issue, "nothing has changed."
However, ODM Chairman John Mbadi maintained that the coalition was intact and that each party had a right to hold its rallies.
"We want to assure our supporters that the coalition is intact and the ongoing campaigns are aimed at strengthening our individual parties and consolidating our support across the country to form a formidable force to kick out Jubilee in 2017," said the Suba MP.
The revelations come amid rife speculations that the CORD coalition could be falling apart, following apparent disagreements on who should be the team's flag bearer as well as the mode of conducting party primaries.
Nonetheless, the three CORD co-principals maintain that all is well and the coalition is only upholding democracy by allowing all members to campaign freely.
Fresh Details Reveal How Raila Betrayed Kalonzo, Wetangula