106 officials refuse to join JP after union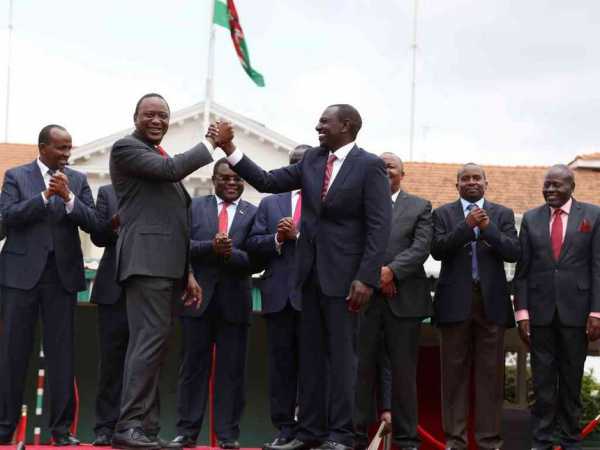 One hundred and six elected officials among them Governors, Deputy Governors, Senators and MCAs refused to join the newly formed Jubilee Party after their parties were dissolved.
The office of the Registrar of Political Parties yesterday said most of them resolved to join other parties or remain independent as they serve their remaining term in the national and county assembly respectively.
The elected officials are three governors, two Deputy Governors, two senators, seven MPs and ninety four MCAs.
"The Office of the Registrar of Political Parties has received resignations pursuant to the provisions of the Political Parties Act read together with The Political Parties (Amendment) of 2016 in relation to the membership of elected and nominated members upon merger," said the Registrar of Political Parties in a notice.
Meru Governor Peter Munya demanded to be independent, Lamu Governor Issa Adbdalla requested to join Amani National Coalition while Bomet Governor Isaac Ruto officially joined his party Chama Cha Mashinani.
"A member who is a President, Deputy President, Governor or Deputy Governor, Member of Parliament or member of a county Assembly, and who does not desire to be a member of the new political party registered after the merger shall continue to serve in such elected office for the remainder of the term, and may join another party or choose to be independent member within thirty days of the registration of the new party," Registrar of Political Parties Lucy Ndung'u quotes the constitution.
Lamu Deputy Governor Eric Mugo joined ANC while his Isiolo counterpart Mohammed Gulleid joined Chama Cha Mashinani. The Senators who refused to join JP are Bonny Khalwale and George Khaniri of Kakamega and Vihiga County respectively.
The seven members of parliament are Moitalel Kenta (Narok) and Kyengo Matatha (Kagundo) who have preferred to remain independent while Sakwa Bunyasi (Nambale), Alfred Sambu (Webuye East), Alfred Musadia (Sabatia), Yusuf Chanzu (Vihiga) and Ayub Savula have all joined the Amani National Congress (ANC).
Others are the 94 MCA's in Kakamega, Migori, Vihiga, Kwale Bomet, Meru and Baringo who have joined ANC, Kanu, ODM or preferred to remain independent.
ANC remains the biggest beneficiary after more than seventy three elected officials joined the newly formed party.