Raila Hits Back After Wetangula Compared Him to Infertile Woman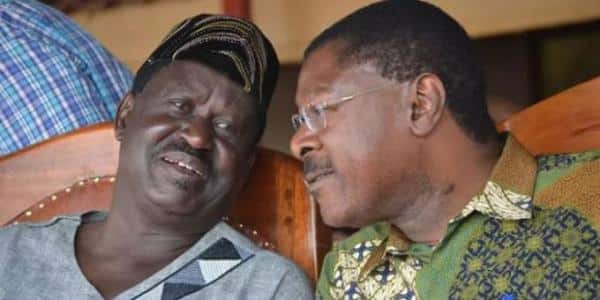 ODM leader Raila Odinga has spoken after Bungoma Senator Moses Wetangula compared him to a woman who can't give birth in marriage despite efforts by the husband.
Addressing the media on Wednesday, Raila made it clear that he will neither endorse Wetangula nor Kalonzo Musyoka to be CORD's flagbearer. He instead stated that the only way out would be a competitive nomination.
The former Prime Minister compared the contest between the three CORD principals to suitors who were trying to win over a beautiful girl.
"This is a beautiful girl and everyone is trying to market themselves, saying I am the best suited. The girl will make a decision," Raila was quoted by the Standard.
The Opposition leader disclosed that Kalonzo and Wetangula had the mandate to move across the country and strengthen their parties.
"In a coalition, the strength is determined by the weakest link. So each party has been given the mandate to go round and strengthen itself then we shall meet and deal with the nomination issue. Nomination in our view is the last item that we are going to deal with. At the moment, we are more concerned with strengthening our parties," Odinga affirmed.
The former PM maintained that the CORD coalition was united despite utterances by the two urging him to drop his Presidential ambition.
Wetangula, over the weekend, likened Odinga to a woman who couldn't get pregnant in a marriage and urged him to let another person take a shot at the Presidency.
"In marriage, in my local community, if you have a beautiful wife and after first, second and third month in marriage there is no baby, her aunties will come and ask her to try elsewhere with another man and then you see the woman becoming pregnant. When she gives birth nobody will know that is not your child.
"Now that we have tried with Raila and seen nothing, we are asking him that he is our elder. We don't disrespect him. But we are telling him that now that he is our elder he will have a special place in the Cord government. But be the king maker. King makers in most occasions are even better that the king himself," Wetangula affirmed.
Wetangula's remarks sparked trouble in the Opposition with some ODM legislators threatening to bar him from being the CORD flagbearer.