VIDEO: Boniface Mwangi Clashes with Police Boss on Live TV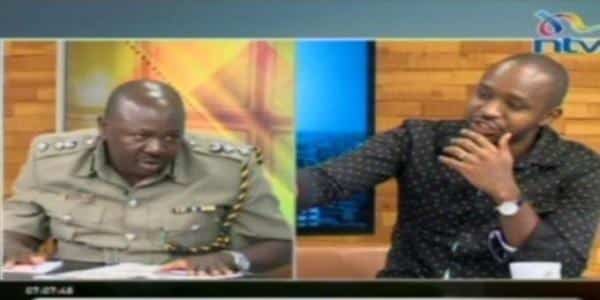 Human rights activist Boniface Mwangi on Wednesday morning entered into a heated confrontation with police Spokesperson Charles Owino on NTV 's morning show, AM Live.
During the discussion on police killings in the country, an outspoken Mwangi openly accused the police of killing citizens highlighting that the crimes were always swept under the carpet.
"Majority of people shot in this country every year are shot by the police," Mwangi firmly stated.
Mr Mwangi quoted the case of slain businessman Jacob Juma and Kabete MP George Muchainoting that police were secretly behind the killings but little had been done to bring the suspects to book.
He further indicated that: "When we have an MP who has stolen millions, they are not shot. Give the young men a chance for due process."
The allegations were not taken kindly by Mr Owino who was before the panel to represent the police. He indicated that Mwangi was not factual in his claims challenging him to report the cases he was aware of to the police instead of firing accusations on irrelevant platforms.
The Spokesperson became even more agitated with Mr Mwangi recounting the fateful day when the activist dragged him in the demonstrations against the killing of lawyer Willie Kimani, his client and taxi driver and even poured 'blood' on his clothes.
Owino noted that Mwangi's actions were immoral adding that he was a young, indiscipline man.
At one point during the discussion, an enraged Owino vowed never to appear on the same panel as Mwangi.
Owino dominated the debate which also had representatives from the Independent Policing Oversight Authority (IPOA) and media.
He rubbished claims of massive police killings noting that the service should not be a condemnation in large scale but individuals should be held accountable on their own.
"We are not opposed to anybody reporting a specific issue. We are opposed to blanket condemnation," he satated.
The debate comes a day after Interior Cabinet Secretary Joseph Nkaissery issued a statement asking Kenyans not to judge the entire police force by the actions of a "few rogue elements."
Nkaissery accused the media of misreporting when it came to extrajudicial killings, citing a recent report published in a local daily.
"Figures presented in the report to try and justify its wild allegations were grossly wrong and not verified," he said.
Here is the video – the confrotation starts on the 50th minute.