Gideon Moi To Be DP In Nasa Line-Up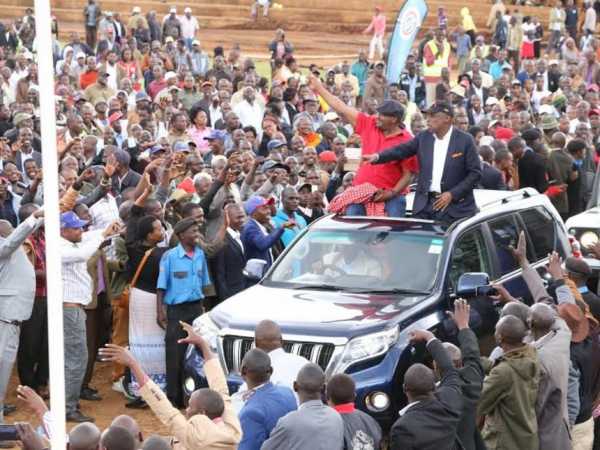 The team crafting the National Super Alliance has proposed two Deputy Presidents in a new government — one of them Kanu leader Gideon Moi.
It proposes a greatly expanded executive of five requiring constitutional amendment.
If it wins, it would create First and Second Deputy Presidents, a Prime Minister and two Deputy Prime Ministers to represent all regions in a power-sharing deal.
The prospect of a cohesive and single-minded opposition is causing jitters in the new amalgamated Jubilee Party in which former affiliate party officials are grumbling over positions and anxious about the fairness of nominations.
NASA, if it launches, could be a game-changer in 2017. Talks are underway and the aim is to unveil it by March.
Constitutional amendment to expand the executive requires a Bill or popular popular initiative signed by at lease one million registered voters.
The process is described in Constitution Articles 256 and 257.
Yesterday the Baringo senator was unavailable for comment and his phone went unanswered.
Aide Joseph Kimkum said although the proposal has not been formally made, the Baringo senator was open to ideas.
"When it is presented to us formally, we will respond. Our party leader has made it clear he is willing to engage with progressive forces in a structured manner," Kimkum told the Star.
According to the team, elevating Moi to the DP's position will make him equivalent in status to Deputy President William Ruto.
Thus, NASA will get votes in Baringo, Bomet and other parts of South Rift, the Star has been told.
It is understood Bomet Governor Issac Ruto will run for reelection but has promised to work with Moi to deliver votes to the opposition alliance.
The second DP post is proposed to ,represent the Eastern region.
Wiper leader Kalonzo Musyoka is considered the possible occupant.
Although all opposition leaders say they want to be President, it is understood NASA's candidate will be either Cord and ODM leader Raila Odinga or ANC chief Musalia Mudavadi.
The one who doesn't get the presidential ticket would get the PM's post.
The two Deputy Prime Minister positions would go to the Coast and Kisii, according to the team. No names have been proposed yet.
Under this plan, the position of Speaker of the National Assembly, constitutionally the third most powerful position, would go to Ford Kenya leader Moses Wetang'ula. The Senate speaker would come from Rift Valley.
The coalition partners will also get at least two Cabinet, three Principal Secretaries and four parastatal CEO positions.
The Cord affiliate parties — ODM, Wiper and Ford Kenya — have quietly been engaged in informal talks with Amani National Congress (ANC), Kanu and Chama Cha Mashinani (CCM) to form the National Super Alliance to face the Jubilee Party.
The talks will gain momentum in January and the presidential candidate is expected to be named by April.
Cord co-principals Raila (ODM), Musyoka (Wiper) and Wetang'ula (Ford Kenya) have been mandated by their parties to negotiate with ANC's Mudavadi, Moi of Kanu and Bomet's Ruto, who heads CCM.
"We are working on a broad coalition which he hope to unveil by March next year," Mudavadi confirmed yesterday.
If the so-called super alliance lifts off and operates smoothly, it will complicate the ruling Jubilee's calculus to win the Western vote bloc, Raila's political bedrock and stronghold.
Raila, who has failed in three presidential bids, has said he was willing to bow out of the race if a united opposition chooses another candidate to challenge Uhuru Kenyatta.
"The opposition is expanding and Cord will be part of the expanded opposition," he said yesterday. "The ultimate goal is to present a single candidate against Jubilee."
Cord has appointed a team to choose its flagbearer in the August 8 polls.
The 73-year-old politician said he will respect the team's decision even if it means his name is not on the ballot.
Mudavadi, a former finance minister who came third in the last presidential race, says the only way for the opposition to stop Kenyatta is to unite under NASA.
An opinion poll commissioned by the Star and published early last month indicated 47 percent of Kenyans would back the Jubilee Party, if the polls were held now, compared with about 40 percent for the proposed alliance.
In 2013, the opposition disputed the outcome after Kenyatta obtained about 4,000 more votes than required for a first-round victory.
ODM chairman John Mbadi, Wiper secretary general Hassan Omar, Ford Kenya's Eseli Simiyu, Ruto of CCM and Kanu secretary general Nick Salat all confirmed they are in talks to forge NASA.
"As Wiper, and by extension Cord, we all realise the need for a broad-based coalition backing one candidate against Kenyatta. We want to win decisively and to do so we must unite," Mombasa Senator Hassan Omar said.
Unity and common front discussions among opposition leaders have alarmed Jubilee.
The biggest concern among Kenyatta's strategists is how to fight the corruption narrative Raila has been hammering home.
Jubilee has been hit by scandals in the last four years and the President's handlers say it is difficult to defend against some of them, especially because opposition claims are supported by numerous government reports of graft in high places.
They cite the Auditor-General Edward Ouko's reports that have provided Raila considerable political fodder in the recent past.
Gideon Moi To Be DP In Nasa Line-Up