Hostile youths disrupt Raila speech in Changamwe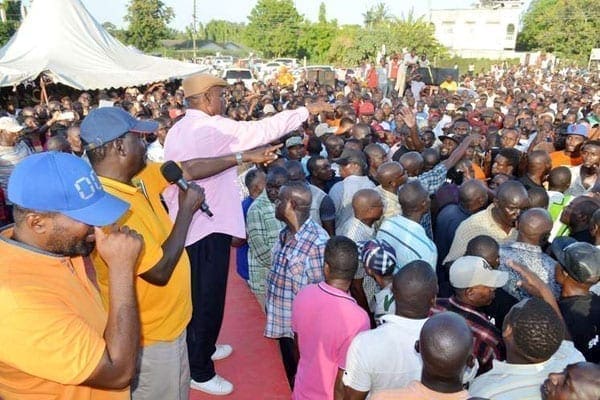 Rowdy youths disrupted a rally addressed by ODM leader Raila Odinga at Changamwe's Volleyball ground Wednesday evening, forcing him to cut short his address at least six times to call for order.
The youths waved twigs just five meters from the dais forcing security men to push the crowds away.
Mr Odinga, at some point, was so infuriated that he warned the youths that they would be forcibly ejected from the venue.
"If you came here for the meeting then keep quiet. If you came here to cause chaos, you will be ejected…keep quiet…young men keep quiet because I have come here with a very serious message," he pleaded but his pleas fell on deaf ears as the noise continued.
Mr Odinga ordered security people to bring to the dais a seemingly notorious youth who kept on shouting obscenities.
"Bring that youth here…bring him here to me," ordered Mr Odinga.
When he drew closer, the youngman accused area MP Omar Mwinyi of abandoning them for five years only to come back to campaign for the ODM leader.
But the noise persisted again forcing Mr Odinga to give further warning that "the five youths causing chaos should shut up" as pandemonium momentarily broke out with the fearful and confused crowds trying to disperse to avoid being hurt.
Mombasa Governor Hassan Joho took the microphone from Mr Odinga and warned the youths to shut up or "you will be forced to listen to ODM leader Raila Amolo Odinga".
Later on, some youths were dragged out by security personnel but when they were out of the grounds, they started hurling stones sending the crowds into more confusion.
When calm was restored, Mr Odinga challenged President Uhuru Kenyatta and his government to stop what he described as intimidating him with threats of causing chaos.
"I was here at Shimo la Tewa prison for three-and-a half years, Manyani prison for one year and all the major prisons in Kenya. I have suffered for this democracy you are enjoying as it has a price. Let Uhuru Kenyatta stop intimidating me. He has never been to a cell for a day," he said.
Mr Odinga denied allegations that the Opposition was bent on causing chaos instead accusing the government for such a plan.
"Security Cabinet secretary Joseph Nkaissery displayed police equipment last week indicating that they are preparing for violence", he said.
Addressing another rally at Tudor matatu stage earlier, Mr Odinga decried the low numbers of people registering as voters in the coast, Eastern, Nyanza and other opposition strongholds.
"The only weapon you can use to send the Jubilee government home is the voter's card." he said.
-nation.co.ke