Political dynasties prepare to take seats in 2017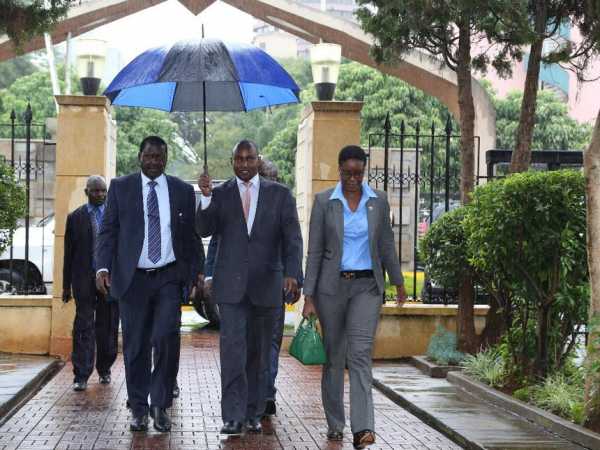 For years political families have ruled and wielded power over Kenya's economy and society and this year the children of 'royalty' run for election. Do they have a birthright?
Dynasties appear to be taking root.
Family brand names carry cachet, some dating back to the freedom struggle. This, along with financial might could propel — or at least help — the scions of nobility into office. Merit, however, plays a part.
Critics say dynasties limit democratic space and cut off opportunities for lesser known candidates of greater merit.
Kenyatta, Odinga, Moi, Matiba are the most famous names. Then there's Musyoka and Ruto.
In the Kenyatta family President Uhuru, son of founder Jomo Kenyatta, seeks reelection. His cousin Annah Nyokabi Gatheca will defend her seat as Kiambu woman representative.
Kenya's second President Daniel Moi is watching his son, Baringo Senator and Kanu chairman Gideon Moi, fight for political dominance in the Rift Valley against DP William Ruto. His brother, Rongai MP Raymond Moi, will defend his seat.
Moi ruled Kenya for 24 years.
It is not clear yet whether his other son Jonathan Toroitich will try again to capture the Eldama Ravine constituency, which he lost in 2013.
Also on the ballot is Raymond Matiba, son of liberation hero Kenneth Matiba, running for Murang'a governor against incumbent Mwangi Wairia and Kigumo MP Jamleck Kamau.
Kenneth Matiba was a vocal opposition leader who fought for democracy against the authoritarian Moi regime.
Cord leader Raila Odinga — son of freedom fighter and opposition icon Jaramogi Odinga — is expected by many to make his fourth run for the presidency. He is a former Prime Minister.
His daughter Rosemary Odinga plans to run for the Kibra constituency against Ken Okoth. Raila senior was MP for the constituency for a decade. Another aspirant in Kibra, former Raila aide Eliud Owalo, has been criticised Raila for using his influence to give his daughter an unfair advantage. Owalo criticises dynasty politics.
Raila's brother Oburu Odinga, a nominated senator, will try to recapture his Bondo parliamentary seat. Raila's sister Ruth Odinga is running for Kisumu governor.
Also on the ballot is Wiper Leader Kalonzo Musyoka's son, Klein Kalonzo, preparing to run against John Munuve for the Mwingi seat, thereby following in his father's footsteps. The Wiper nomination would give him a strong start in a constituency where his father commands huge support.
DP William Ruto's eldest son Nicolas Kipkurgat may be preparing to run for Turbo MP in Uasin Gishu county. Last August, he told the Star he would decide soon. His decision is awaited.
Nick, a 29-year-old lawyer, has been networking attending private events and joining his father at some forums. A run appears to be on the cards.
Former Starehe MP Margaret Wanjiru is aiming for the Nairobi governor's office. Her son Stephen Kariuki will defend the Starehe seat he inherited from her.
In Nakuru, Koigi Wamwere has renewed the battle with the Kihika family 37 years on. He will run for Senate against Susan Kihika, county speaker and daughter of former assistant minister Kihika Kimani.
So, is the child of a famous leader a natural-born leader with special talent and merit? Do elite families work to retain power by strategically positioning their sons and daughters? Is hereditary politics good for a country?
We asked analysts. Some said dynasties are self-serving and not a force for national good.
Others say the public should not discount the qualifications, intelligence and commitment of candidates from powerful families. Voters should elect the man or woman, not the family, they say.
"Most of them are just ambitious, while a few are interested in amassing wealth," political analyst Javas Bigambo told he Star.
"They will ride on their fathers' influence as these families seek political relevance." Bigambo is an expert on governance, rights and African development.
He says elite families capitalise on their financial muscle and political machines to launch bids for governors, senators and MPs.
They have strong grassroots networks as well as influential brand names — household words — after decades of politicking.
"They are easily recognised in a community. They have political identity," Bigambo told the Star.
In some areas, influential political families and close associates have been obliged to buy off rivals to win elections.
Executive Director Ndung'u Wainaina of the International Center for Policy and Conflict describes some families as oligarchs putting politicians in strategic positions to extract money by winning government business.
"Most billionaires did not create companies that generate serious wealth to become billionaires but position themselves to loot government," Wainaina said.
Their members are gradually introduced to the public through political activities such as harambees, political rallies, church services and other village meetings.
"Kenyans should be worried … Some might be honest but a good number — and Kenyans know these families — are into the business of creating wealth by looting," Ndung'u said.
Bigambo said dynasties and oligarchs tend to believe the citizens owe them power and resources. But hereditary politics threatens national development and shrinks democratic space as it can exclude opportunities for other people of merit, he said.
Mombasa Senator Omar Hassan has said Kenya is not desperate for leaders and urged the public to elect independent leaders with the nation's best interests at heart.
"Previous regimes are known for assassinations, dictatorship and looting … We are also told Gideon Moi should be an opposition presidential candidate this year or become Uhuru's running mate. Something is really wrong," Omar said.
Political dynasties are not unique to Kenya.They exist in Africa and around the world. There are Nehrus and Gandhis in India, Bhuttos in Pakistan.
In the United States, the Kennedy and Bush families have produced presidents, governors, senators and other leaders.
-the-star.co.ke