Kenyans hopeful Uhuru meeting will end doctors' strike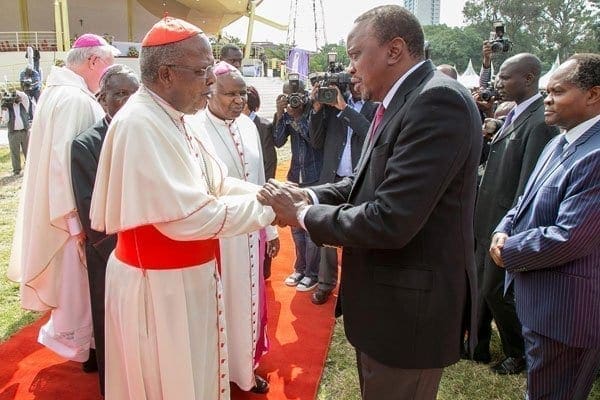 Kenyans are hopeful President Uhuru Kenyatta's meeting on Thursday with the heads of the Catholic and Anglican churches and doctors' union leaders will put an end to the misery caused by the 88-day-old doctors' strike.
The Nation has exclusively learned that the crisis meeting, which will be held at an undisclosed location in Nairobi, will bring together the President, Catholic Archbishop John Cardinal Njue, his Anglican counterpart Jackson ole Sapit and the leadership of the Kenya Medical Practitioners, Pharmacists and Dentists Union (KMPDU).
The main objective of the meeting is to "try to end the strike". It will come a day after President Kenyatta held a four-hour long meeting – from noon to about 4pm – with Cardinal Njue and Archbishop ole Sapit at State House in Nairobi.
Details of the closed-door meeting between the government and the two religious leaders are said to be highly confidential so as not to jeopardise the ongoing talks. The talks to end the strike have been mediated by the Law Society of Kenya (LSK) and the Kenya National Commission on Human Rights (KNCHR).
However, it is understood that during the meeting, the President appointed a team of his senior staff to be in touch with the bishops to plan for today's meeting. Prior to this meeting, Cardinal Njue and Archbishop ole Sapit had met representatives from the KMPDU for nearly 48 hours where it was agreed that it was paramount that "the President had to be involved". This led to the four-hour meeting on Wednesday.
Asked about these meetings, a source from the doctors told the Nation that "there are meetings going on" and that they "await some meeting with the President as and when State House confirms it".
This comes as spirited mediation talks to resolve the stalemate between the doctors' union and the government were adjourned on Friday after a deadlock. With this was an ultimatum by the mediators for both parties to soften their positions or the KNCHR and the LSK would otherwise submit "an appropriate report" on the matter to the Court of Appeal on Thursday.
Therefore, the meeting slated for Thursday is likely to take place after the filing of the report in court on the same day. The talks ended on February 24 because the doctors claimed they were frustrated that the government refused to improve the 40 per cent offer it had given to the health workers despite the doctors revising their demands downwards.
Source link-nation.co.ke