President Uhuru Kenyatta maintains lead over Raila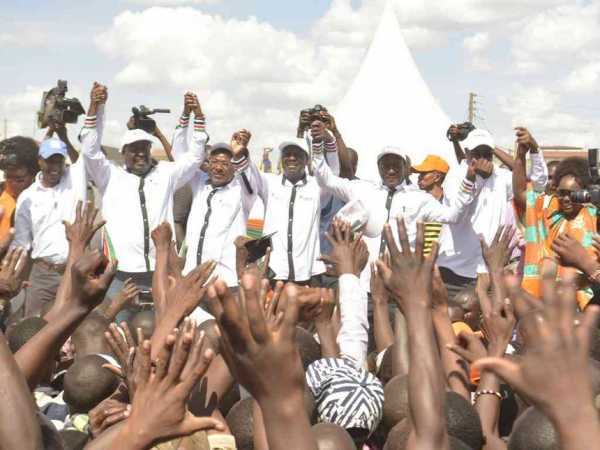 If Kenya voted today, President Uhuru Kenyatta would defeat opposition chief Raila Odinga by 51 per cent to 24 per cent in the first round, a Star survey indicates.
However, the poll by the newspaper's research department indicates Raila remains by far — 51 per cent — the preferred presidential flagbearer on August 8.
According to the poll, the former Prime Minister's NASA comrades — Wiper Leader Kalonzo Musyoka and his Amani National Congress counterpart Musalia Mudavadi — would garner three per cent and two per cent, respectively.
Ford Kenya Leader Moses Wetang'ula who is also the Senate minority leader would not get any votes, the survey indicates.
In February, the same poll put Uhuru at 48 per cent against ODM chief Raila's 28 per cent.
At that time, the country faced strikes by doctors and lecturers that paralysed both the health and the higher education sectors.
The Star's random telephone survey of 2,000 eligible voters was conducted from March 15 to 19 in 16 counties, based on number of eligible voters. Both urban and rural areas were sampled. The margin of error was +/- 2.19 per cent, with a 95 per cent confidence level.
However, the poll indicates 20 per cent of Kenyan voters are still undecided on their choice for President, with only 135 days to the polls.
The survey is likely to leave Raila and his advisers pondering their strategy at a time when he has been going flat out to remove Uhuru.
Yesterday, the three opposition captains held a mammoth rally in Nairobi's Mathare estate and assailed Jubilee as a failed regime.
Their next stop is Mombasa for a grand rally at the Tononoka Grounds on Sunday to undo possible damage caused by Uhuru and his Jubilee brigade two weeks ago.
Uhuru received many defectors, including Mombasa Deputy Governor Hazel Katana and Tana River Governor Hussein Dado at a mammoth rally. He relaunched Mtongwe ferry services.
But he also insulted Mombasa Governor Hassan Joho, ordered police to block him from his ferry-launch event. Joho was placed under 'office arrest'. Mombasa residents were offended by the head of state's behaviour.
Raila plans to regain a foothold in Rift Valley, especially South Rift and take substantial votes from Mount Kenya East — Meru and Tharaka Nithi.
The NASA brigade recently stormed Bomet, Eldoret and greater Meru.
However, the poll findings buttress Raila's position as the de facto NASA leader, indicating 51 per cent of Kenyans say he is the alliance's best bet against Uhuru.
Fifteen per cent of respondents said Kalonzo would deliver the presidency for NASA. Only one per cent said Mudavadi would win.
However, 23 per cent of respondent said they don't know who would or could deliver opposition victory.
Kalonzo has trashed a poll indicating Raila is the preferred NASA standard bearer, claiming it was sponsored by opposition insiders and Jubilee.
Minority Leader Francis Nyenze, a trusted Kalonzo ally, was even more blunt. He said the polls were ODM machinations to portray Raila as the most popular. He insisted it was Kalonzo's turn to fly the flag, citing a 2013 MoU between ODM and Wiper. They agreed Raila would be a one-term President and support Kalonzo in 2017.
But the Star survey indicates that out of 16 surveyed counties, 14 say Raila is NASA's strongest candidate.
Nairobi gives Raila 51 per cent to Kalonzo's 14 per cent; Mombasa gives Raila 61 per cent, Kalonzo 14 per cent; Garissa where Raila secured 44 per cent, Kalonzo 7 per cent; Meru where Raila scored 45 per cent, Kalonzo 21 per cent.
Others are Uasin Gishu where Raila got 54 per cent, Kalonzo nine per cent; Nakuru giving Raila 52 per cent, Kalonzo 12 per cent.
The poll appears to demolish Kalonzo and Mudavadi's claims they are acceptable in Jubilee strongholds.
The survey indicates Raila is preferred in Uhuru's Kiambu and Muranga backyards, Nakuru, Bomet and Uasin Gishu.
Some 44 per cent of respondents in Muranga said Raila was NASA's best pick, followed by Kalonzo at 15 per cent.
Only six per cent vouched for Mudavadi.
In Kiambu, 15 per cent said Raila was Uhuru's strongest opponent, compared to Kalonzo's 15 per cent and Mudavadi's seven per cent.
However, Kalonzo and Mudavadi beat Raila in Nyeri at 28 per cent and 25 per cent. respectively. Only 19 per cent endorsed Raila as the opposition favourite.
But even in the two sampled Luhya community counties, Raila is preferred to Musalia and Wetang'ula.
In Kakamega, 47 per cent said only Raila can beat Uhuru, 22 per cent chose Mudavadi.
In Bungoma, Wetangu'la's backyard, 48 per cent want Raila, compared to 17 per cent for Mudavadi and 11 per cent for Wetangu'la.
On Friday, the Star exclusively reported the NASA technical committee emphatically said the choice must be Raila.
The committee said excluding the ODM leader would outrage his supporters and convert intact opposition bastions into battlegrounds with Jubilee.
According to the committee of top academics, Raila remains the most formidable candidate and his stepping aside will not translate into automatic votes for any NASA principal.
Speaking to the Star, political analyst Danson Omari agreed Raila's constituency is no longer transferable to anybody after what he called "betrayal" of the Kenyan nation by President Kibaki after the 2002 polls.
According to Omari, Raila is the only only leader who can spearhead total overhaul of governance and removing him from the ballot would result in massive voter apathy.
"The same scenario played out in the US … When Bernie Sanders was forced to move out and pro-establishment Hillary Clinton was brought in, the majority of Sanders' supporters either voted for Donald Trump or failed to vote," Omari said.
Source link-the-star.co.ke