Raila and Ruto exchange BITTER words despite being in separate rallies
Jubilee was holding a parallel rally in Naivasha the same day -The result of the two rallies was an indirect exchange between Raila Odinga and the Deputy President Raila Odinga and Deputy President William Ruto engaged in a fierce exchange, on Friday, March 24, TUKO.co.ke has established.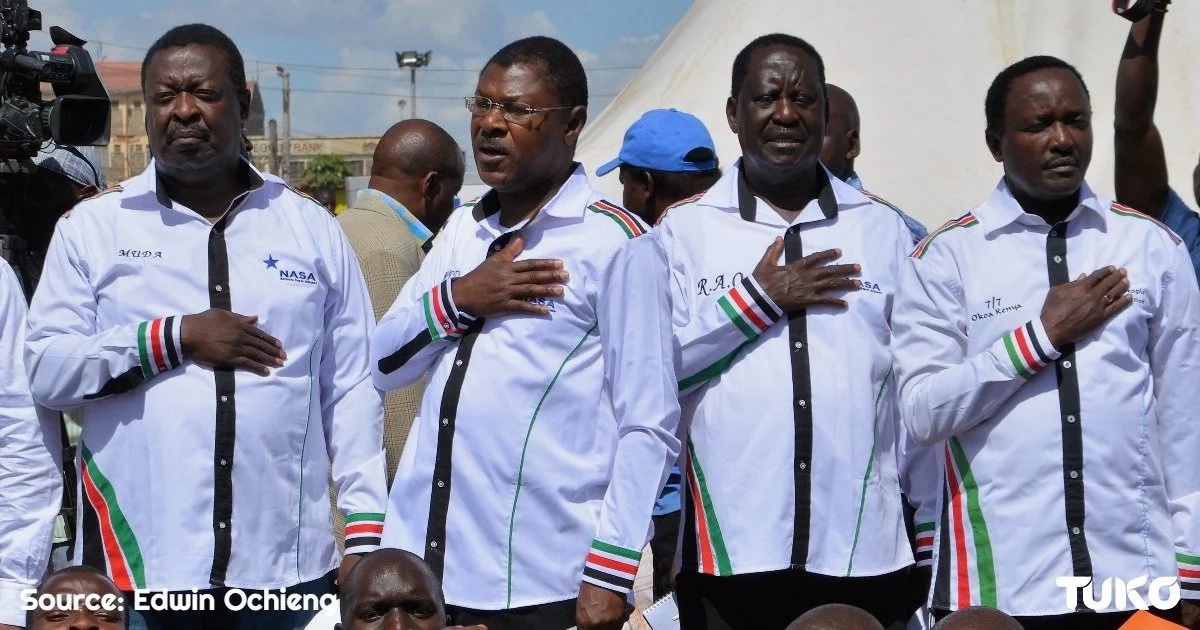 READ ALSO: Lillian Muli silences her critics with one MEAN statement Both NASA and Jubilee were holding separate rallies in Nairobi and Naivasha respectively where they sought to sell their agenda to residents.
READ ALSO: Government responds to allegations that Jaguar is being protected after killing two people What ensued was an epic war of words between Raila Odinga and Deputy President William Ruto, despite being nearly 100 kilometres apart. It all started when the ODM leader called out Jubilee for bragging about their development record when according to him, not much had been done. Raila then cited Jubilee's claims that they had increased tarmac roads and electricity in the country by upto 5 times, with an accusation of his own.
The crowd in attendance at the NASA rally
READ ALSO: Comedian Nyambane speaks after Uhuru gave him a KEY job in Jubilee "Only 500 km of road only has been built. Iko Kenya gani? Unafiiri Wakenya ni wajinga sana?Eti unapelekea mtu anaishi kwa nyasi stima." (Only 500 kilometres of road has been constructed. How ignorant do they think we are? How can you supply electricity to Kenyans living in thatched houses?) Raila asked Huruma residents. The crowd in attendance at DP Ruto's rally
READ ALSO: After his campaign was botched by GSU officers, Hassan Joho set to make a major announcement Ruto, who has evidently been told of Raila's speech, responded almost immediately: "Ati tumeweka slum stima. Sisi tunawaambia, hata wale wanaishi kwa slums tunawawekea stima" (They claim we are taking electricity to Kenyans living in slums. I want to tell you today that we will supply power to every Kenyans, even those in slums.) The DP retorted He then jibed at the NASA leaders, saying they would be the last people to understand Kenyans' predicament.
READ ALSO: Mike Sonko finds his 'running mate' for Nairobi governor "Hatuwezi walaumu. Raila alikua mtoto wa vice President na Mudavadi alikua mtoto wa minister, kwa hivyo hawawezi elewa. (We can't blame them, Raila was the son of a Vice President and Mudavadi the son of a minister. They wouldn't understand,") Ruto went on.
Both NASA and Jubilee are set to intensify their campaigns in the coming days in each other's strongholds. Jubilee will tour Mombasa on Sunday, March 26 in a rally that will be parallel to Hassan Joho's planned event in Tononoka while NASA, through Moses Wetangula, announced that they would 'infiltrate' Jubilee's terrain in their subsequent rallies.
Read more: https://www.tuko.co.ke/234822-raila-ruto-exchange-bitter-words-separate-rallies.html