VIDEO: Sonko asks Peter Kenneth to apologise to President Kenyatta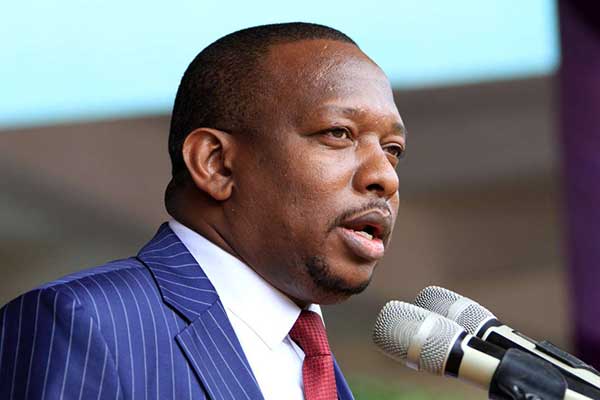 Nairobi senator and gubernatorial aspirant Mike Sonko has demanded a public apology from fellow aspirant Peter Kenneth before he agrees to consensus on who is to take the Jubilee ticket.
In a heated and often emotional interview on Citizen TV on Sunday night, Mr Sonko wavered between declaring outright that he cannot work with Mr Kenneth and demanding that he apologises for opposing President Uhuru Kenyatta in 2013.
Mr Sonko began the interview with Citizen TV news anchor Hussein Mohammed by declaring, "I don't want to know about his name."
He peppered the interview with unsavoury remarks about Mr Kenneth's skin colour and made claims about his past and his academic history, prompting calls for decorum and a disclaimer from Mr Mohammed. At one point, he cheekily asked Mr Mohammed to sip some water
The anchor appeared to cut the interview short, with the senator complaining that he had been told that it had been scheduled for a full hour.
Asked whether he would agree with a proposal by Mr Kenneth that the aspirants discuss and settle on one candidate without the current acrimony, Mr Sonko said, "Those are just intimidations. Me I'm not ready for consensus. I'm ready we go to the ballot. Let the people have the final verdict on this."
He said the main grudge he has with Mr Kenneth stems from his refusal to step down and support President Kenyatta at the 2013 General Election.
Mr Sonko sees this as an attempt to divide the Mt Kenya vote, which made it harder for the President to get the seat. Mr Kenneth was fourth in the 2013 polls with 72,786 votes. President Kenyatta won with 6,173,433 votes, 50.51 per cent.
He wants Mr Kenneth to apologise to the Jubilee coalition and President Kenyatta's supporters for his actions in 2013.
"I'm not going to step down for one Peter Kenneth. Even I'm not going to be his running mate. Even if he agrees to step down for me and become my running mate, I will never accept it," he said.
Mr Sonko said Team Nairobi, of which he is a member, has a strategy that it wants to execute and that he is willing to work with either Margaret Wanjiru or Dennis Waweru.
"I have a lot of bitterness with this guy. I'm not going to forgive him until… He has to do a public rally and I'm giving him a condition. Let him have a rally in Gatundu. Let him call Mama Ngina Kenyatta, let him call Sonko. Let him convert the tears we shed that time into tears of joy," said Mr Sonko.
"In the same way I am refusing to work with him, let him feel what we felt in 2013," said Mr Sonko. "Even Trump doesn't care. I also don't care," he added.
Mr Sonko initially declined to name people in government he said were frustrating his attempt to run for the governor's seat but eventually named a Principal Secretary and a former MP.
The senator had during the day on Thursday last week said he was unable to get a Certificate of Good Conduct from the Directorate of Criminal Investigations but later posted a photograph of the same document on his Facebook account later at night.
Mr Sonko likened his fight to get the Jubilee Party ticket to President Kenyatta's fight to get on the ballot in 2013 as civil society groups and fellow politicians tried to stop him on the basis that he was facing charges at the International Criminal Court.
"You know I used to be the biggest thief, thief in quotes… we used to be the biggest thieves before we were entrusted by the people of Nairobi… The nonsense we were doing before we joined politics, we have forgotten about it. We now want to do good things for the people," said Mr Sonko.
He said he had a plan to ensure there is no rigging in Jubilee Party nominations by ensuring all votes are counted at polling stations.
Source link-nation.co.ke
VIDEO: Sonko asks Peter Kenneth to apologise to President Kenyatta