A friend of my son's passed away from a drug overdose.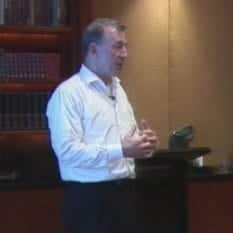 Is it right at the funeral to say he will be in peace in Gods arms? I should add that my belief is that if you die in sin you go to hell.
As this group is for pastors, it highlights the difficult position when faced with a death in the family to lie. Trust me I understand this pressure to say everyone unrepentant mass murders included, all go to heaven. Maybe I should say just, all those who have never been saved and those who have backsliden.
I am not addressing the OSAS issue and if that is your position then just read this as, should we say that the lost all go to heaven at a funeral?
Some including myself see this as an opportunity to evangelise.
What is our job, before God in this situation? This is obviously opposed to what is our job that is often expected by the community?
An argument could be put with regard to timing in telling the truth of Gods righteousness, although I might not agree in all instances, does this then extend to saying to the lost you dont need to be born again to get to heaven? This, to me, is like a pastor opening the doors to hell himself.
Hypergrace and greasy grace is sweeping your nation as it is mine, but if you have not come under this deception then we are faced with what we do and say in such times.
By Oskar Abley-Healthcare business consultant