Celebrated Televangelist Lucy Natasha visit America.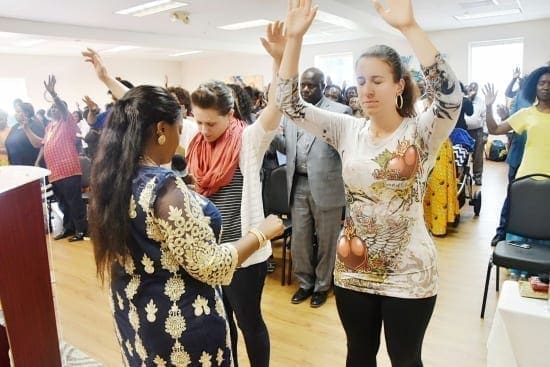 The celebrity televangelist Rev. Lucy Natasha known for delivering upbeat sermons and messages on social media is on her first 'America's tour of hope'.
Rev. Natasha, Founder of Prophetic latter glory Ministries international is being accampanied by her executive assistant Princess Irene in casting that net of faithful optimism out to thousands of Kenyan diaspora residing in America.
After many years of ministry, Rev. Natasha has became an international recognized prophetic voice and she has ministered in U.K. , U.A.E, Qatar, South Africa , among others where millions of people are finding comfort, inspiration and faith through her sermons that transcend the ages.
On her first event at Faith builders Tabernacle in Novato, California , Rev. Natasha told the congregation that life problems- whether stalled jobs, Immigration, financial difficulties or dashed dreams can pave a path of success.At one point, She urged the audience not to focus on small things or what they perceive as obstacles but focus on big dreams and  future opportunities. " No one determines your destiny but almighty God"  she said." I'm telling you God has been soo good and he will do the same for you".
The event also drew many pastors and religious leaders across San Francisco Bay Area." We declare that today is a fresh start for kenyans living in America since prophecy brings enlighntenment, wisdom, faith and unity" Pastor Joseph Sakuda of Faith builders tabernacle.
To follow Rev Lucy Natasha  'America's tour and events dont hestitate on
Facebook page Rev Lucy Natasha
Instagram @revlucynatasha
Twitter @revlucynatasha


Africa Welfare Association is a pioneer provider of services to it's Diaspora members in the event of loss of a loved one. We are entrusted with the welfare of the African Diaspora globally.
We are entrusted with the welfare of the African Diaspora globally. AWA was set up in response to the ever-growing demand for services at a critical time. With trusted partners, AWA will offer you benefits wherever you are in the world.
Alleviate stress with AWA
At some point, we have been with a grieving family or friend and come to learn that none of us are ever prepared to leave this world. When the time comes, we shall leave everything including our loved ones behind. With proper planning, you can alleviate the burden of the expense associated with your untimely departure at a time when your family and loved ones are grieving
Celebrated Televangelist Lucy Natasha visit America.