I'm not out yet: Kabogo to battle Waititu as independent candidate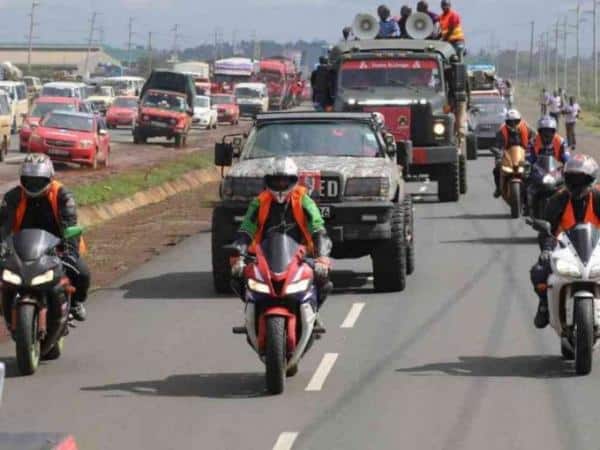 Kiambu Governor William Kabogo will face off his political rival Ferdinand Waititu as an independent candidate in August polls.
Kabogo lost to Waititu popularly known as "Baba Yao" in the Jubilee primaries after he garnered 69,916 votes against Waititu's 353,604 votes.
"Having consulted my wife, Kiambu residents and friends I hereby announce my independent candidature…I will be on the ballot. At the end of the day, we are one people with the same dream," Kabogo said.
Addressing the media on Sunday, Kabogo said in recent weeks he met many people and received calls on the next cause of action.
".. this is not my fight it is our fight. it is not about who is stronger at spreading propaganda but about the vision that will take us where we need to be. That is the vision that consumes me," he said.
Kabogo who is seeking for a second term said power is given by the people adding that he was ready to make Kiambu a better county.
"As a team we will have some work to do, that is the power given by the people. For those who had a little faith, I want to promise everyone that I will give you the best whether you are a Kikuyu or Luo or any other tribe," he said.
Stronger Kabogo to fight on
Noting that the nominations were flawed, Kabogo said he will not be swayed and was ready to face hurdles ahead of the polls.
"The elections had many flaws and since our campaign was about transformation, we have the evidence that there was rigging," he said.
"My silence was as a result of the peace pact that I signed. The younger Kabogo would have handled things differently."
Kabogo claimed that there are people who had hurt his family but noted that he would not give up.
"There are a lot of things said about me but those who want to seek the truth will find it. Some of them have hurt me and my family but we are strong," he said.
He thanked the voters for coming out in large numbers and voting for him during the nominations.
"I thank voters who came out in large numbers, for everyone who voted for me, I want to say Asante. I am proud of you and for those who did not vote for me I thank you as well," he said.
Last month, Kabogo conceded defeat as results trickled in from Kiambu Jubilee's primaries.
Preliminary results showed that the Governor was trailing behind significantly against longtime rival Ferdinand Waititu.
After the nominations, Waititu extended an olive branch to Kabogo after beating him hands down in the Jubilee primaries.
"Those people who have been voted out, Kabogo and his government, we do not have any personal problem with them," he said.
Source link-the-star.co.ke