Raila tells off Muthama, asks him to respect Kalonzo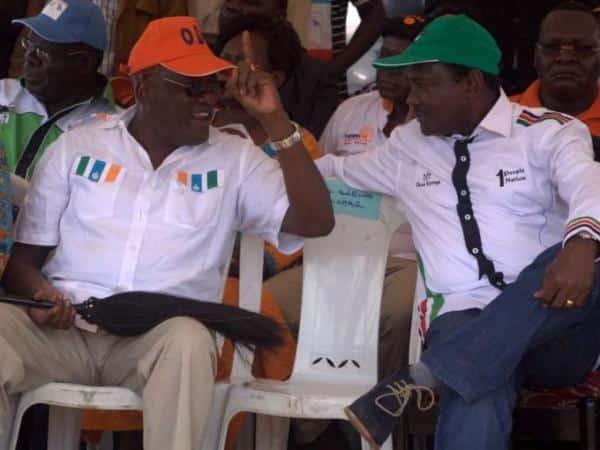 NASA flagbearer Raila Odinga has scolded Machakos Senator Johnson Muthama and told him to stop criticising his running mate Kalonzo Musyoka.
You have to respect the Wiper leader, Muthama was told.
The feuding and carping with Kalonzo is not helping the opposition alliance nationally and in Ukambani, Raila is said to have told Muthama on Monday in a telephone call.
On Sunday Kalonzo said Raila will at some point be forced to choose between him and Muthama.
Muthama has been critical of Kalonzo and has openly told off the NASA presidential running mate, accusing him of handpicking Wiper candidates in Ukambani.
But yesterday several people close to Raila told the Star Raila had intervened in the feud because it was damaging NASA.
"Raila has personally spoken to the senator and asked him to work with Kalonzo," an aide to Raila said yesterday.
On Friday while he was in Machakos, Kalonzo called Muthama several times but the senator did not answer his calls. Kalonzo then spoke to Raila about his efforts to reach out Muthama.
Then Raila called the gemstones magnate who promised to meet Kalonzo after attending to his sick mother.
Muthama failed to show up but instead on Saturday went to the burial of David Musila's mother in Kitui. There he launched a scathing attack on Kalonzo who was present.
Kalonzo considered Muthama extremely disrespectful and he decided to respond to Muthama on Sunday after a church service in Mlolongo.
Yesterday sources close to Kalonzo told the Star the Wiper leader was unhappy that Muthama was campaigning against Wiper aspirants in Ukambani.
"It is unacceptable that Muthama is fighting Wiper candidates. His reasons for withdrawing from the party do not hold water. Kalonzo is supporting choices made by the people [and] he has an obligation to camapign for them now that the primaries are over," Makueni Senator Mutula Kilonzo Jnr said.
Pascal Ndei, a political commentator in Ukambani, said the fight between Kalonzo and Muthama was all about control of the Ukambani vote.
"You cannot rule out a regional supremacy battle in all this.To me, it is actually a matter of one trying to challenge the other's political command. Muthama has always had a preferred line-up running parallel to that of Kalonzo," Ndei told the Star.
If his team succeeded, according to Ndei, Muthama would have slowly but steadily replaced Kalonzo as the Ukambani leader, especially because he has a lot of money that he has used to finance his aspirants.
Muthama has now been asked to deputise NASA leader Musalia Mudavadi in the Raila presidential campaign team. Mudavadi is the overall team leader but Raila's chief campaign manager is lawyer Willis Otieno.
In an open letter to Muthama shortly after the senator announced he will not be defending his seat, Makueni Governor Kivutha Kibwana said Muthama had crossed "the ethical and moral line" by attacking Kalonzo.
Kivutha explained that he opted out of Wiper in 2013 because Muthama insisted that Wiper had to give Prof Philip Kaloki the ticket.
Because of Muthama's interference, Kibwana said, Wiper lost many seats in Parliament.
In 2013 Wiper lost Masinga, Yatta, Mwala, Machakos and Kangundo parliamentary seats. Kibwana says Wiper is now determined to correct the mess created by Muthama in the last five years.
"If the Wiper party had authorised direct nominations for Kiala in Machakos, Musila in Kitui and David Masika in Makueni, Senator Muthama would today be sitting pretty, having added three more feathers to his hat," Kibwana said in his letter.
The senator denies he was the reason he party lost the seats in 2013 elections.
"In fact, the reason we lost these seats is because I spent most of my time campaigning for our presidential candidate Raila Odinga — to the point that I had not enough time to come home and campaign for the Wiper candidates. If I had camped here, the narrative would be different," he told the Star yesterday.
Kibwana accuses Muthama of having wanted to be Machakos governor through Deputy Governor Bernard Kiala, "but instead he has unwittingly consigned Kiala to political obscurity".
According to Kibwana, Muthama has in the past harmed Kalonzo politically by abusing other communities, especially the Kikuyu community.
He says that on such occasions people would think that Muthama had been sent by Kalonzo to do so, though he has always been his own messenger.
"Political hygiene is an asset. Ethics dictate that there are certain unacceptable utterances within the public space, which children and adults jointly inhabit, which should not be made. But Muthama has done that so many times," Kibwana said.
Muthama has also been accused of fighting MPs Robert Mbui (Kathaini), Patrick Makau (Mavoko) and Stephen Mule (Matungulu) — the only MPs who have remained loyal to Kalonzo.
Muthama had accused the MPs of being used by the Jubilee government when they tried to form a lobby group called the Wiper Express, with an agenda to spearhead Kalonzo's negotiations in the NASA alliance.
Kalonzo has denied having influenced the recent party primaries, saying that they were conducted in a free and fair manner.
On his side, however, Senator Muthama has maintained that his differences with Kalonzo were purely based on how the party conducted its primaries.
At the burial of Kitui Senator David Musila's mother, Muthama claimed Kalonzo interfered with the party nominations in which Musila lost.
He also protested that his ally Kiala was short-changed in the Machakos governor nominations.
Kathaini MP Robert Mbui and Yatta MP Francis Mwangangi said Kalonzo and the Wiper party as a whole will be better off without Muthama.
"If you ask me, I will tell you that there will be a very positive impact on Kalonzo's political journey and Wiper as a party with Muthama out of the way," Mbui said.
Mwangangi said that the community was tired of Muthama fighting every other leader now and again and will even be ready to ask him to go and contest elsewhere.
"The era of tantrums, ego trips, blackmail, megalomania, political-preneurs and political manipulation is over. Muthama can as well go to contest in Kisumu if he wants," Mwangangi said.
Source link-the-star.co.ke