Trump proposes Sh7 billion cut in development assistance to Kenya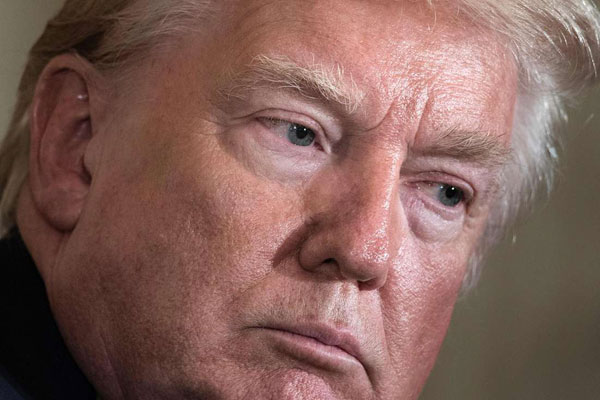 United States President Donald Trump has proposed a Sh7 billion cut in development assistance to Kenya in the latest sign that he is committed to seeing through his campaign pledges.
In his first Budget, submitted to Congress on Tuesday, President Trump is reducing foreign aid in general while boosting spending in defence and security programmes.
He wants Kenya to get $639.35 million (Sh64 billion), down from $710.53 million (Sh71 billion) last year, in total assistance.
America's money, according to the first-term president, should be channelled to economic support worth $83 million (Sh8.3 billion), counter-terrorism ($14 million, Sh1.4 billion), peace and reconciliation ($2 million, Sh200 million) and private sector ($8 million, Sh800 million).
Washington would also continue financing political and governance programmes at $10 million (Sh1 billion) and health and education ($15 million, Sh1.5 billion) in 2018.
But the US will reduce its commitment for military and defence training aid to Kenya, on which the Trump White House has proposed to spend $850,000 (Sh85 million), from $924,000 (Sh92 million).
HEALTH PROGRAMMES
The US funds health programmes in Kenya directly or through accredited non-governmental agencies. Its health State funding last year was $800,000 (Sh80 million).
This category is not indicated in the proposal. However, the US has proposed a further $8 million (Sh800 million) to Kenya through USAid, which is still lower than last year's $31.7 million (Sh3.2 billion).
Early this month, USAid halted direct technical financial support to the Ministry of Health "because of the ongoing concerns about accounting processes and procedures that revolve around corruption."
Health Cabinet Secretary Cleopa Mailu, however, said the ministry had filed every required document with the US agency. The Trump regime's budget is a glimpse of how tight his foreign assistance will be as he seeks to please his voters with "America First" policies.
Over its eight-year reign, the Barack Obama administration gave Kenya $3.5 billion (Sh350 billion) for health programmes, $393 million (Sh39 billion) for governance and $86.3 million (Sh8.6 billion) for education, according to USAid data. The US is one of Kenya's key donors.
Source link-nation.co.ke