Kenya Police Grill 10 People Over Joseph Nkaissery's Last Hours
Kenya Police Grill 10 People Over Joseph Nkaissery's Last Hours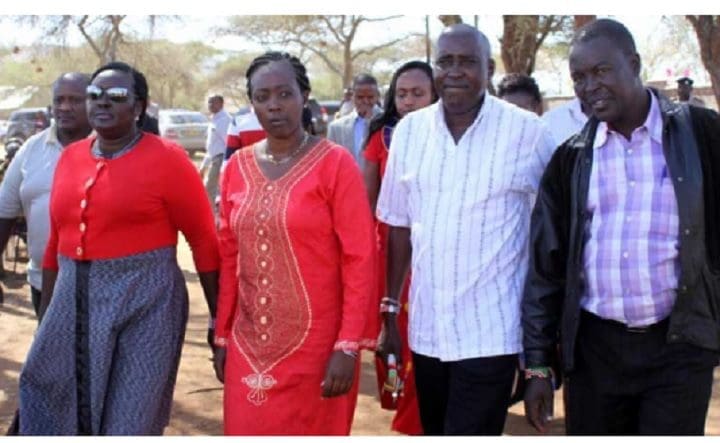 Detectives were Sunday reviewing the closed-circuit television (CCTV) footage of the restaurant Interior Cabinet Secretary Joseph Nkaissery visited on Friday night before he died hours later. In addition, at least 10 people who interacted with Mr Nkaissery at the Bomas of Kenya Lounge, at his Karen home where he fell ill and at Karen Hospital where he was pronounced dead at around 1am, have been questioned by police. But sources close to the investigations said detectives only informally talked to the individuals, explaining that the probe was yet to progress to formal recording of statements because a postmortem had not been conducted.
he postmortem had been planned to take place Sunday but was postponed to today, to, according to sources, await one of his sons to return from the US.
Pathologists
A team of pathologists was ready for the exercise at the Lee Funeral Home Sunday morning but was informed of the decision. The son arrived in Nairobi Sunday afternoon.
Nkaissery's widow, Hellen, who was admitted to hospital after she developed high blood pressure following the CS's death, was expected to be discharged Sunday. But even as a postmortem is being awaited today, the widening scope of preliminary investigations suggests authorities are not leaving anything to chance over Nkaissery's sudden death. There has been speculation that Nkaissery could have died from one of three causes; a heart attack, embolism (a blocked artery caused by a foreign body such as a blood clot or an air bubble) or that he could have been poisoned. On Saturday, detectives collected samples for forensic investigation from various places the late CS visited the previous day, including his office at Nyayo House, his Karen home and the Bomas restaurant. Among those interviewed were the house help, a driver and bodyguard who took him to hospital and a security consultant at the Office of the President, Francis Mugambi, who joined them at the hospital. They also spoke to a number of officials at Karen Hospital including Dr James Mageria, who confirmed to them the CS was dead when he was taken there. Others were four waiters at the hotel where he was served with a light meal and wine and a friend he had been with there. Those questioned were asked not to share any information with journalists.
The detectives from the Homicide department at the Directorate of Criminal Investigation headquarters and those from Nairobi Area combed various places that the CS visited on Friday. "We want to know who he talked to, met and the kind of interaction they had at the restaurant and other places," said an official aware of the probe. Mugambi, a friend of Nkaissery for the past 43 years, said he was with him on Friday night at the Bomas of Kenya Lounge, a place they left at around 8.45pm. Mugambi told Citizen TV on Saturday that thereafter he received a call from one of the CS's security officers at about 12.30am on Saturday, informing him that Nkaissery had fallen ill. He asked him to join them at Karen Hospital. He found Nkaissery's wife, Hellen, son, and the security officers at the hospital. "At around 1am, the doctor who attended to the CS told us there was nothing they could do as the CS had already died," said Mugambi. Health Cabinet Secretary Cleopa Mailu, Inspector General of Police Joseph Boinnet, his deputies and Interior Principal Secretary Karanja Kibicho arrived at the hospital and after consultations moved the body to Lee Funeral Home at 4.45am Saturday.
Among the places the detectives visited on Saturday as they traced Nkaissery's last moments were the Bomas of Kenya, which has been closed to the public as it is being transformed into the official tallying centre for the August 8 General Election. At the Bomas restaurant, where he is said to have taken a glass of wine and food, they collected samples from food, drinks and dusted seats. A corner where he held a meeting at the venue was cordoned off. The car Nkaissery used on Friday has been dusted and grounded as part of the probe. At his home in Karen, detectives collected samples from the food he ate, clothes and then took away some of his personal effects. Other samples were also taken from Karen Hospital for analysis. Information pieced together by detectives relying on Nkaissery's aides, friends and family members showed Nkaissery arrived at Bomas of Kenya on Friday evening, where he goes often to watch news and meet his friends, before heading home. At home, he is said to have held a brief meeting with his security team on the following day's itinerary, before doing exercises and later having dinner with his wife. He collapsed and died while walking upstairs to the bedroom and was rushed to Karen Hospital shortly after midnight, where he was pronounced dead. "He was already dead, but you see doctors cannot assume and that is why they tried to resuscitate him but it was too late," Dr Mageria said.
Mageria called Head of Civil Service Joseph Kinyua, Boinnet and DCI Ndegwa Muhoro to the hospital and handed over the body to them and Nkaissery's family members. President Kenyatta on Saturday said more details on the death would be released later. "More details will be given out in the course of the day on the circumstances of this unfortunate and untimely death. But even as we wait for those results of the postmortem so that we can all properly understand the cause of death, I ask Kenyans to be calm, I ask Kenyans to be united," he said.
Source-standardmedia.co.ke
Kenya Police Grill 10 People Over Joseph Nkaissery's Last Hours