I dress the president: Meet 26-year-old behind Uhuru's iconic college jacket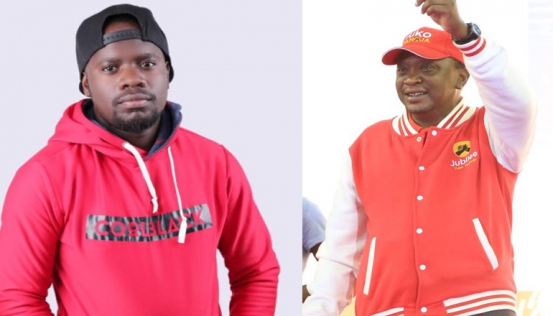 SDE: You are the brains behind the college jackets that the president wears. How did you achieve this?
Robert: You know the Swahili saying 'Chema chajiuza, kibaya chajitembeza' (A good thing sells itself, a bad thing must be advertised), that is my story in a nutshell.
I used to design jackets for celebrities like Wyre, Nick Mutuma and Jalang'o, when the quality of my work caught the eyes of Big Ted.
It was then that he headhunted me to design college jackets. However, at the time I did not know that the president would be the one wearing them.
SDE: How did you find out that you were designing for the president?
Robert: On September 10, 2016 I was watching the launch of Jubilee party on television when I saw the president wearing the college jacket I had designed.
I was excited that the president believes in young designers and opted to settle for a Kenyan Designer, CoolBlack.
SDE: Do you talk to the president before coming up with ideas?
Robert: I have never met his Excellency face to face, but going by the fact that he is yet to reject any of the designs, I believe that I speak his style language when it comes to designs that are youthful.
SDE: Do you consider dressing the president your biggest achievement?
Robert: It is among my top achievements. My biggest achievement is people accepting my product and being willing and able to pay for it.
SDE: Did you always want to be a designer?
Robert: No. The second born in a family of four, I wanted to be an economist when I grow up. I graduated in 2013 from Jomo Kenyatta University of Agriculture and Technology (JKUAT) having earned a degree in Actuarial Science.
SDE: How did you end up a fashion designer?
Robert: While in college, I needed extra money but did not want to ask my parents for it. So in 2012, I started selling printed t-shirts to my classmates, hawking from friend to friend.
With time, I realised I was passionate about fashion. The feedback was also encouraging. I started my company, CoolBlack in December 2014.
SDE:  How did your parents take this decision to become a designer?
Robert: My dad, a retired pharmacist and my mum, the accommodation manager at JKUAT were not happy with my decision.
They felt I had wasted my time and their finances because I had done a marketable course, performed well and had even received a job offer with the largest research company.
SDE: You also design watches. What was the inspiration behind that?
Robert: I have been fascinated by watches since I was young. At one point, I saved to buy a very classic and expensive watch. After buying it, it stopped working after a few days later. When I took it back to the dealer he refused to either repair it or refund my money.
From then on, I vowed to make my own line of watches that engages well with clients to give them products that suit their taste, offer warranty and after sales services.
SDE: How much does one watch go for?
Robert: A piece costs Sh1500.
SDE: How do you set yourself apart?
Robert: I always put God first in my business. Then, I have invested in other designers who come up with out of the box designs. I also encourage them to be authentic.
SDE: What advice would you give to upcoming designers?
Robert: They should preach one message 'Buy Kenya, Hire Kenya.'
SDE: What else do you do apart from designing?
Robert: I do a bit of poultry farming and I love cooking. I also enjoy boxing as my way of keeping fit. Boxing also helps me stay disciplined. It is more than just throwing punches and kicks.
Source link-sde.co.ke