Sarah Serem announces pay cut for IEBC commissioners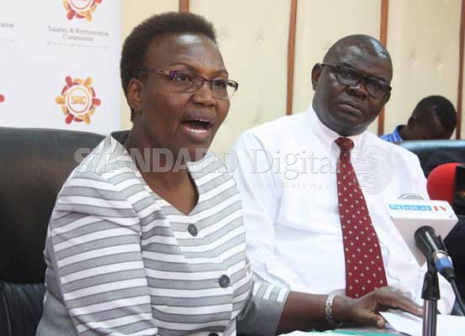 Election officials have been handed a pay cut just days after conducting the General Election. In a Kenya Gazette notice on Friday, the Salaries and Remuneration Commission (SRC) said top officials of the Independent Electoral and Boundaries Commission (IEBC) will now ear Sh747,461, down from Sh765,188  month.
SRC chairperson Sarah Serem gazetted the changes that will also affect the Director of Public Prosecutions and chairpersons of all constitutional commissions. Retain pay Members and vice-chairpersons of all constitutional commissions will have their basic pay reduced from Sh650,000 to Sh621,250 a month.
However, the Attorney General and the IEBC chairperson will retain their basic pay oft Sh924,000 a month. SRC has for long tried to tame the ballooning public service wage bill, which has continued to grow despite efforts by the Government to reduce it. President Uhuru Kenyatta and his deputy, William Ruto, took a pay cut.
Salaries consumed Sh274.3 billion this year, up from Sh184.9 billion in the same period a year earlier – representing a 48.3 per cent increase. This will be a big headache for President Kenyatta, who got a second term at the ballot in last week's polls
The SRC has tried to resolve the problem by cutting the pay and allowances of the 2,222 members of county assembly, 349 MPs, 67 senators, 47 governors, and the President, among other top earners in the public service. The changes are subject to approval by the next Parliament.
-standardmedia.co.ke