Kiraitu, Munya team up to campaign for Uhuru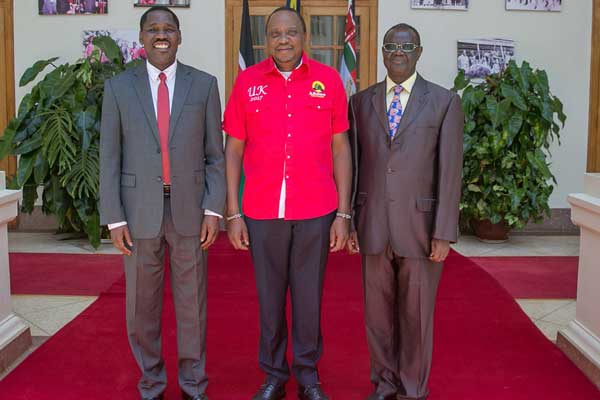 Meru Governor Kiraitu Murungi and his predecessor Peter Munya have agreed to resolve their differences and work as a team to ensure President Uhuru Kenyatta wins the repeat election.
The two leaders, who met and held discussions with President Kenyatta at State House, Nairobi on Wednesday said they will go back to Meru with a message of unity and conduct joint presidential campaigns.
The two leaders also pledged to preach the message of unity to their supporters and residents of Meru County.
President Kenyatta expressed gratitude to the two leaders.
He said their resolve to work together will fulfill one of Jubilee Party's agenda of uniting and bringing Kenyans together.
Mr Munya had said he will campaign for opposition leader Raila Odinga before he made a U-turn and backed President Kenyatta's re-election.
He had said he would not support Jubilee, accusing the party of rigging him out after Mr Kiraitu won the gubernatorial seat.
Source link- nation.co.ke