Protestors block Karua from entering court for Waiguru petition hearing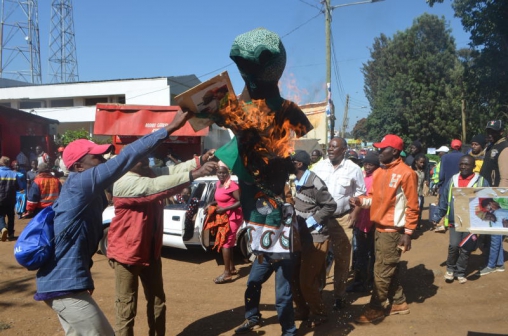 Protestors momentarily blocked Narc-Kenya leader Martha Karua from accessing the Kerugoya Law Courts for the hearing of her petition against the election of Kirinyaga governor Anne Waiguru.
ALSO READ: Governor Ndathi, Martha Karua reject Kirinyaga gubernatorial poll
Waving placards and chanting anti-NASA slogans, the demonstrators barricaded the road blocking Karua's vehicle. She was in the company of her lawyer Gitobu Imanyara.
The rowdy protestors also burned an effigy of Karua outside the court premises, accusing her of being a NASA agent in the county.
The commotion and the singing of anti-Karua songs interfered with the court proceedings and police were called in.
Anti-riot police were called in to disperse the protestors before the court session could proceed.
Justice Lucy Gitari had put aside Karua's file after she failed to turn up in court on time.
ALSO READ: Uhuru's tough balancing act as he pursues Mt Kenya vote
After apologising to the court for coming late and on giving a detailed explanation over the mater, Justice Gitari ordered the area Chief Magistrate and the Court Registrar to ensure the petitioner gained access to the facility without any obstruction in future proceedings.
After the hearing of the inter-party application, Karua and Imanyara rushed to their vehicle and drove off without uttering a word.
While leaving, she was treated to the same drama by the protestors who had lined up along the main Kerugoya town street as police kept vigil to ensure her vehicle was not damaged in the ensuing commotion.
The protestors were also joined by scores of Boda Boda riders who escorted Karua out of the town until she was out of the vicinity.
Source link-standardmedia.co.ke