Kenyan immigrant detained for 9 years to attend concert outside detention center

Kenyan immigrant detained for 9 years to attend concert outside detention center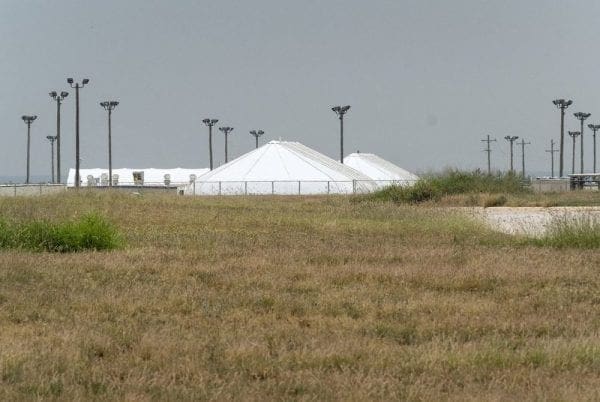 For one night only on Friday, advocates, musicians, and a comedianne hostess will hold a music festival in Adelanto, California, the site of the largest immigrant detention center in the state. Headlined by the R&B musician Miguel and emceed by comedianne Cristela Alonzo, the event is meant to call an end to the immigration detention system which currently holds tens of thousands of people every night.
Organizers with the immigrant advocacy group Community Initiatives for Visiting Immigrants in Confinement (CIVIC) are holding the event outside the Adelanto immigration detention center, which is operated by the private-prison company GEO Group. On any given night, the facility can hold 1,940 detainees, according to the GEO Group website. Organizers hope that people will show up for the free concert not only for the music, but to understand the ways in which for-profit detention centers are jeopardizing the health of detainees.
"Adelanto is a hot bed of misuse, abuse, and mismanagement," Christina Fialho, the co-executive director at CIVIC, told ThinkProgress in a phone call on Wednesday. "The federal government is also calling these facilities 'immigration detention centers' but they are prisons with inhumane conditions and very little accountability so we're also trying to change the terminology around 'immigration detention' to what they really are, 'immigration prisons.'"
Nine Years After Completing His Prison Sentence, This Man Was Finally Released
Sylvester Owino, a Kenyan immigrant detained for nine years and released in 2015, will also be at the event to share his experience as an immigrant detainee. Owino came to the United States on a student visa in 1998. He was caught robbing a store in 2003. He served 26 months out of a 36-month prison sentence, then in a move akin to double imprisonment, he was transferred to Immigration and Customs Enforcement (ICE) custody in 2005 for potential deportation proceedings.
Owino made an asylum claim because he said Kenyan police tortured him. For the next six years, he was detained as his case went back and forth between an immigration judge and a federal appeals court. Finally, a U.S. judge released him on a $1,500 bond reportedly telling him, "I don't think you need to be in custody anymore after all that time.'"
Owino said he has moved past the emotions he felt when he was in detention waiting for his case to be resolved. Now, he's focused on getting his life running on track. At the moment, he's building up Rafikiz Foodz, a farmer's market stand in San Diego, California where he serves vegan and non-vegetarian cuisine using the recipes from his Kenyan childhood.
AFTER NINE YEARS IN IMMIGRATION DETENTION, SYLVESTER OWINO, A KENYAN IMMIGRANT, STARTED RAFIKIZ FOODZ, WHICH SERVES VEGAN AND NON-VEGAN FOOD IN SAN DIEGO, CALIFORNIA. (CREDIT: RAFIKIZFOODZ)
"We do almost eight farmers markets a week," Owino told ThinkProgress in a phone interview Thursday. "We opened last year in February. I saved some money. CIVIC helped boost my finances a little bit. I was motivated to do it."
"I was just thinking how many guys in detention are not supposed to be there and can help boost the economy."
Owino pointed out that his success story could be the success story of other immigrant detainees if only the federal government would release, rather than detain, immigrant detainees as their court cases wind their way through the system.
"People in detention can and need to be let out so they can come work and boost the economy," Owino said. "I was just thinking how many guys in detention are not supposed to be there and can help boost the economy. There's a lot of potential there."
"Sylvester has become really successful and well known in San Diego for his vegan and non-vegan food truck options," Fialho said. "He's doing really well and it's sad to see that this man with so much business acumen and organizing skills [was] imprisoned for nine years for no good reasons unnecessarily."
As someone who has experienced one of the longest prolonged detention sentences, Owino had a few choice words about the U.S. immigration system where the average detention is about 30 days.
"There's no reason why there should be prolonged detention," Owino said. "There should be alternati[ves] to detention and the government should focus on that because it's so many people with great potential who are doing nothing there and just wasting taxpayers' money."
Owino's decision to participate in the music festival as a means to shed light on the humanity of immigrant detainees and more broadly the immigrant population, is also partially why some of the other headline acts are taking the stage. Cristela Alonzo, the emcee of the night, was the first woman of Mexican heritage who had a network show called Cristela on ABC. Alonzo comes from a mixed-immigration status family, where her mother and brother were undocumented before they were able to become resident aliens, a term she hates to use because it normalizes the othering of people who worked hard to become a part of the United States.
"I get very personally offended when people insult the undocumented community because it's like they're insulting my mother and I won't let that happen," Alonzo told ThinkProgress in a phone interview Thursday. "I choose to let myself be vocal because… a lot of people may not assume that I come from a mixed status family. Because people have these perceptions of what kind of person an undocumented person is, they see me and say, 'but you speak so well.'"
As the daughter of an undocumented immigrant mom who grew up in poverty, Alonzo wants the terminology for "immigrant detention centers" to change.
"When people call certain buildings 'detention centers' it sounds fancier than what it is."
"When people call certain buildings 'detention centers' it sounds fancier than what it is," Alonzo said. "It's an immigrant prison and what people don't understand is when you have immigrants stay there and they stay there for a long time to await their futures, corporations are making a lot of money off of them. The conditions are subpar, the lack of medical attention, these are people who deserve to be treated as humans. In order to shed light on this, we need to get people together to understand why and how this exists, so we're going to the source. We're going to Adelanto."
As Alonzo alluded to, private contractors such as GEO Group and its major competitor CoreCivic hold about 60 percent  — roughly 13,000 beds — of all immigrant detainees in the United States, according to Fox Business News. Each bed filled each day generates payouts to these companies on the scale of $120 per detainee per night. Those profit margins could soar, given that President Donald Trump has promised to crack down harder on undocumented immigrants. In so doing, his administration has began actively expanding its detention capacitynationwide.
While groups like GEO Group and CoreCivic are expected to grow in states like Texas, California lawmakers have already taken a big step in curbing the practice of locking up immigrants. Earlier this month, Gov. Jerry Brown (D-CA) signed the Dignity not Detention Act, which halts the expansion of for-profit detention centers in the state. The law requires all current California facilities to meet or exceed federal national standards and other requirements; prohibits renewing or modifying the contact in a way that would expand the maximum number of contract beds.
It appears possible to understand why California has put a moratorium on immigration detention expansion and why these advocates are using this concert to highlight detention center conditions at large. Hunger strikes are common occurrences at Adelanto, where detainees say they are not given adequate medical and dental care. Conditions are so subpar that by June, three detaineeshad died at the facility this year. Overall, 12 detainees have died in ICE custody since President Donald Trump took office.
Source link-thinkprogress.org
Kenyan immigrant detained for 9 years to attend concert outside detention center