Juiciest 2017 Scandals That Astonished Kenyans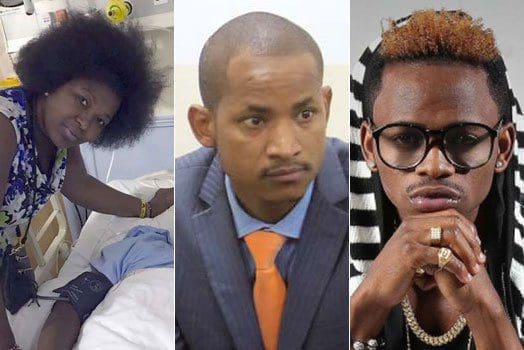 Just when you thought Kenya's endemic problems could not get any worse, the country witnessed its fair share of scandals in 2017, mostly from the political class.
Here are some of the ones that made 2017 a scandal-filled year.
1. Shebesh husband gun drama – In November, the husband of former Nairobi Women Representative Rachel Shebesh hit the headlines after he was admitted to hospital after he reportedly shooting himself in the leg. Mr Franklin Ambundo, 52, was later placed under investigation by the police over the incident with his account seemingly not adding up.
Soon, speculation was swirling on social media as to whether Mr Ambundo had indeed shot himself are had been shot by someone else within his houshold. But Shebesh later sought to set the record straight by maintaining that her husband accidentally shot himself while routinely cleaning his Glock 17 rifle at their home in Nairobi. The truth about the incident, however, remains unclear.
2. Sigiri bridge collapse – Kenyans are used to collapsed buildings, but not Sh1.2 billion structures as was the case with Sigiri bridge in Budalang'i sub-county, Busia County. Curiously, the Chinese constructed mega-structure collapsed in June barely a fortnight after president Uhuru Kenyatta visited the region to inspect it. While the contractor, China Overseas Engineering Company (COVEC), later accepted responsibility for the mishap, the incident only provided an opportunity for apportioning of blame amongst the stakeholders.
3. Babu Owino-Jaguar boyish romp in parliament – A churlish altercation between two newly elected MPs, Paul Ongili alias Babu Owino (Embakasi East) and Charles Njagua aka Jaguar (Starehe) within the precincts of parliament captured public attention in early October for all the wrong reasons. The two were caught on camera engaging in a noisy scuffle as parliamentary orderlies struggled to restrain them. Apparently, Jaguar had been angered by what he termed as Babu's disrespect to President Uhuru Kenyatta.
4. Cholera outbreak during Kenya Trade week – If two cabinet secretaries can contract an infectious disease after intake of contaminated food and water at a high end city hotel during a highly publicized conference, then you only wonder what the kind of health risk the rest of the citizenry are exposed to. In a classic case of closing the stable door after the horse has bolted, the company offering catering services during the event was later blacklisted and a certain hotel closed for some time, but only after at scores of people delegated at the conference delegates had been affected.
5. Deputy President aka Baba Abby – Deputy President William Ruto has in the past taken various monikers; from 'WSR', 'Hussein Machozi', 'Hustler', 'Yule Jamaa', 'Willy' to 'Pastor'. But in early 2017 Ruto was christened 'Baba Abby' on social media after a woman by the name, Prisca Chemutai Bett, filed a lawsuit against him for child support. But if the incident was meant to embarrass him, Ruto pulled a fast one by publicly claiming responsibility over the child, leaving his detractors bereft of ammunition to fire at him.
6. Diamond and his innumerable baby mamas – While its not in doubt that he kept his fans thrilled with several hit singles, bongo flava heartthrob Diamond Platnumz also courted endless controversies with one saga after the other of innumerable baby mamas. His sexual escapades put a great in his relationship with his partner Zari Hassan, who also lost her wealthy Ugandan ex husband.
At some point, Diamond would admit to his philandering ways but the baby mamas and his illegitimate kids kept crawling out of the woodwork, the latest being a Kenyan woman by the name, Pansheni Salama, who days ago dumped a baby girl at the Bongo flava superstar's doorsteps.
Juiciest 2017 Scandals That Astonished Kenyans