Uhuru tells Maraga to 'grow a thick skin' amid criticism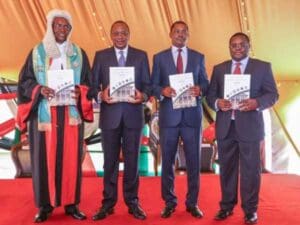 President Uhuru Kenyatta has told Chief Justice David Maraga to grow a thick skin whenever he finds himself being criticised by politicians.
Uhuru said he has learnt to accept criticism as it comes with the office one holds, and Maraga should do the same.
"Kenyans will say what they have to say and most of the time it will not be flattering. However, that is democracy and as I have learned anyway, one of two things in response first is simply just grow a thick skin CJ," Uhuru said.
He spoke on Friday during the launch of the State of the Judiciary and the Administration of Justice Report at the Supreme Court Building.
Soon after the Supreme Court nullified Uhuru's win at the August 8 polls, the president was quick to criticise the apex court judges whom he referred to as "wakora sita" (six crooks).
He went on to single out Maraga whom he accussed of overturning the will of the people and promised to deal with him. "We shall revisit," he said.
Prior to that, NASA leader Raila Odinga is also on record for criticising the judiciary. Days before filing his petition on the August 8 general election, he said the Supreme Court had a chance to redeem itself in that case.
Raila lost a petition to nullify Uhuru's election in the 2013 race after the court, then headed by Willy Mutunga, dismissed the case.
On Friday, Uhuru further told the CJ to embrace consultations when faced with the dilemma of making sensitive decisions in the course of his duty.
"Talk to people within the law but also hear the other side. Parliament has these mechanisms of consultations both with other arms of government but also with people. I believe the judiciary can also follow suit."
Uhuru said Kenyans are reasonable people who are capable of making informed decisions if given a chance to be heard through inclusive dialogue.
The Head of State extended the same advice to other arms of government and asked them to go beyond the call of duty and complement the judiciary in the execution of its mandate.
"Administration of justice is attained when the legislative, the executive and the judiciary work together and not just when the judiciary acts alone," Uhuru said.
"We should be conscious of the judiciary's needs and render our support without delay or undue hesitation," he added.