Kenyan student to attend State of Union address as guest of Sen. Cardin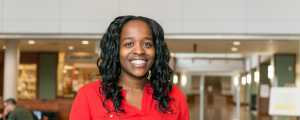 Sen. Ben Cardin plans to bring University of Maryland, Baltimore County student Naomi Mburu as his guest to Tuesday's State of the Union address.
Mburu, an Ellicott City native studying chemical engineering, is the first-ever UMBC student to be named a Rhodes Scholar. She is a first-generation American whose parents immigrated from Kenya.
"I am proud to bring this exceptional daughter of immigrants to our Nation's Capitol for this special event," Cardin said in a statement. "Ms. Mburu personifies the diverse future of this country and what can be achieved through hard work, dedication and a passion for science, technology, engineering and math."
UMBC President Freeman A. Hrabowski III said he was proud of Mburu's accomplishments and "delighted for her to be recognized in this way."
Mburu works as a peer mentor for freshmen and sophomores pursuing chemical engineering and physics, and volunteers weekly with high school girls on STEM-related research projects. She has interned at Intel and spent last summer in Geneva, Swtizerland, at the European Organization for Nuclear Research.
She also has served as president and pre-college initiative chair of UMBC's chapter of the National Society of Black Engineers.
Some lawmakers are using their guests to make a point to President Donald J. Trump.
Dozens of young immigrants will be sitting in the House gallery overlooking the president as he speaks. Minority Leader Nancy Pelosi, Democratic Whip Steny H. Hoyer and other Democratic lawmakers invited them to put a face on an immigration debate that is dominating Congress's attention.
Rep. Annie Kuster, D-N.H., has invited Chessy Prout, a victim of sexual assault while she attended high school.
Bill Nye the Science Guy is also on the guest list. The harsh critic of Trump's environmental policies is the guest of Republican Rep. Jim Bridenstine, Trump's nominee to serve as the next administrator of NASA.
Other lawmakers are seeking to send a message by skipping the event altogether.