KQ books tickets for direct US flights starting October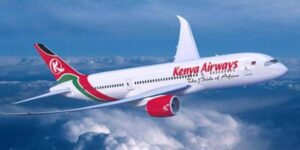 Kenya Airways  is set to commence daily flights between Nairobi and New York in October, marking a milestone for the national carrier that will cut the flight time between the two cities by more than seven hours.
Kenya Airways has already secured a landing slot at JFK.
The trans-Atlantic flights, scheduled to depart Jomo Kenyatta International Airport (JKIA) at 10:30pm every day, will last 15 hours.
This is a reduction from the current flight time of over 22 hours, including lengthy layovers.
"We are currently loading the flights onto our system. We shall go live and ready for bookings on Thursday," said Kenya Airways chairman Michael Joseph in a telephone interview.
"The launch of direct flights between Kenya and the United States will mark a significant milestone for the business and for the country."
Passengers travelling to JFK will arrive at 6.30 a.m., in time for morning meetings, while the return flight from JKF will depart at 1.30 p.m. and arrive in Nairobi at 10.30 a.m. the next day.
Each trip will have a maximum of 234 passengers — 204 in Economy and the rest in Business Class of the national carrier's Dreamliner aircraft.
Kenya Airways, known in short as KQ, had announced its preference to operate the flights through a code-share partnership with US carrier Delta Airlines, its SkyTeam partner.
Delta, Virgin Atlantic and KLM Air France (KQ joint venture partner and shareholder) are, however, currently working out a time-consuming merger, which has seen KQ opt to go it alone for now.
"When this merger is over, we may add another flight to the US with a connecting flight through West Africa," said Mr Joseph.
The government, KQ's top shareholder, has recently stepped up its campaign to actualise direct flights to America, with the Uhuru Kenyatta administration anticipating it will boost exports to the US and help jumpstart the tourism sector.
With about 100,000 tourists visiting Kenya every year for leisure and business, the US remains the top source of visitors into Kenya from the Americas, according to Kenya Tourism Board (KTB) data.
Implemented US recommendations
Imports from the US stood at Sh47.8 billion in 2016, mostly consisting of machinery and equipment while exports, mostly garments and apparels, stood at Sh43.4 billion.
Kenya has recently implemented a raft of recommendations by the US government to enhance security, among them separation of passenger arrival and departure terminals, clearing the flight path and fencing off the airport.
As a result, the US Federal Aviation Administration (FAA) last February gave Kenya the Category One rating, paving the way for direct flights subject to other permits being received by the airport and KQ.
Mr Joseph now says the airline has secured all but two permits required for it to fly to the US, a position the Kenya Civil Aviation Authority (KCAA) director-general, Gilbert Kibe, confirmed.
"JFK is yet to be cleared as the last point of departure, a security-based permit to be issued by the US Transportation Security Administration," said Mr Kibe.
"The other outstanding permit is the technical authority to operate from the FAA. I am confident that KQ will receive the two in time."
Mr Joseph, who also exuded optimism about securing the twin clearances, said it was standard airline practice to put ticket up for sale at the closing preparatory stages of entering a new market.
JKIA's longstanding second-class status forced passengers flying from Kenya to the US to transit through Europe, the Middle East or the four African countries — South Africa, Ethiopia, Cape Verde, and Nigeria — whose airports have the designation.
Airlines plying the JKIA and JFK route include Turkish Airlines (through Istanbul), Qatar Airways (through Doha) and British Airways (through Heathrow), KLM (through Amsterdam) and Emirates (through Dubai and/or Italy).
Ethiopian Airlines and South African Airways also have flights to the US while RwandAir hopes to commence such flights later this year.
KQ's foray into the US comes at a time when the airline is facing an uphill task to turnaround its fortunes, with a recent restructuring of its balance sheet seen as the last chance.
The airline's management, which recently announced a Sh3.8 billion half-year net loss for the business, hopes that the new route will help boost the their flat revenues.