Sonko talks to Uhuru on Igathe resignation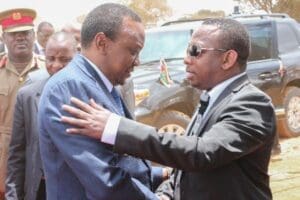 President Uhuru Kenyatta has urged Nairobi Governor Mike Sonko to focus on service delivery and shun political sideshows.
This came days after Polycarp Igathe formally resigned as deputy governor, citing frustrations and lack of trust from his boss.
A source in Mr Sonko's team who sought anonymity said the county chief yesterday called President Uhuru Kenyatta to inform him about Igathe's resignation.
He emphasised that Uhuru urged Sonko to focus on serving Nairobians since the 'political game' played by his former deputy had been overtaken by events.
"Sonko is a personal friend of President Uhuru Kenyatta and Deputy President William Ruto. They talked at length. Uhuru urged Sonko to focus on service delivery," the source said.
President Uhuru Kenyatta jetted in yesterday after an official visit to South Africa and is expected to have a one-on-one talk with Nairobi leaders.
There are indications Mr Igathe had 'a healthy' phone conversation with Sonko a few minutes before appearing on a TV show where he defended the county. He resigned four hours after the show.
In an audio clip heard by The Standard, Sonko and Igathe are heard talking about corruption in City Hall's finance department.
Sonko is heard telling Igathe that he had come to learn that an individual was inflating prices on a Sh124 million payment voucher.
"There are some payment vouchers that I have intercepted from the finance department and come to learn are being inflated. The payment vouchers have a figure that is different from what is on the request. Around Sh99 million has already been paid but I have asked Fariya from the Controller of Budget's office to regularise the remaining amount," Sonko said.
On Friday, before Igathe resigned, he and Sonko had a lengthy phone conversation and issues of figure inflation arose.
Sonko was at the Coast for the induction workshop for county executives.