Serena Williams plans to hold tennis event in Kenya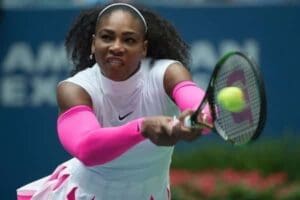 Tennis star Serena Williams has revealed plans to hold Women's Tennis Association (WTA) event in Kenya.
Ms William said Kenya is one of her favourite places in Africa and she would like the event to take place in the country.
SCHOOLS
The American Tennis Star visited Kenya in 2008 and 2010 where she opened two schools – Serena Williams Matooni Secondary School and Serena Williams Wee Secondary School, both in Makueni County.
"Kenya is where I would want the event to take place, adding "it's one of my favourite places to go, so why not?" she said in an interview with BBC Sport.
"It would be so [much] fun – the help that we could do, and the awareness and the athletes and the amazing players that would come out of Africa would just be unbelievable," she added.
The WTA Tour is an elite professional tennis circuit organised by the Women's Tennis Association (WTA).
PHILANTHROPY
The 23-time Grand Slam singles champion said she would make her first WTA Tour appearance since giving birth to her daughter Alexis Olympia in the opening round at Indian Wells on Thursday.
In 2006, Mbitini MCA Dickson Mutaiti, behind the philanthropic activities of MS Williams, was among hundreds who were feted as heroes in Makueni County during the Mashujaa Day celebrations.
Mr Mutaiti was recognised for building and renovating 11 secondary schools in his ward and other areas across Makueni and Kibwezi West constituencies.
Two of them are the Serena Williams schools.