Caroli Omondi kicks out ODM from Orange house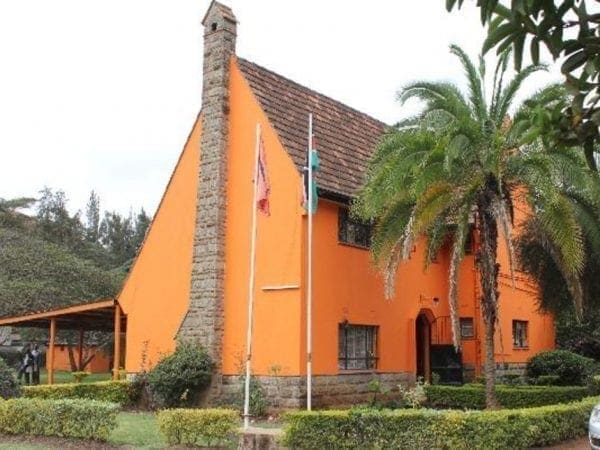 The Orange Democratic Movement Party will soon be homeless after Raila Odinga's former aide and landlord, Caroli Omondi, declined to renew the lease of its expansive headquarters on Menelik Road in upmarket Kilimani area of Nairobi.
In what is likely to be an emotional end of an era for ODM diehards, the Star has established that the party has up to December to vacate the premises it has occupied since its birth 11 years ago.
Set with a unique Hindu architectural design, Orange House had become synonymous with ODM and the nerve centre of Raila's political machine.
The party began using the office soon after it was formed in 2006. It was to become the seat of Raila's campaign operations when he ran against President Mwai Kibaki in 2007 presidential election.
The party's summit, the Pentagon, operated from Orange House and but had another exclusive facility along Ole Dume Road christened Pentagon House.
The lone house compound was ideal for political meetings that sometimes ran into fist-fights and physical confrontations. Sometimes, it was just an attempted putsch to dethrone officials at the secretariat, such as when former Executive director Magerer Lang'at was violently ejected by party hardliners on October 30, 2014, from a meeting of party officials.
Director of strategy Wafula Buke swiftly installed himself as the acting chief executive until order was restored later.
In yet another incident after a lull, on June 14, 2016, Edwin Sifuna declared himself the secretary general of the party, deposing Ababu Namwamba who had fallen out of favour with the party after a protracted duel.
Despite the occasional fracas and drama, Orange House remained the ODM headquarters through three elections as Raila faced Kibaki, and later Uhuru in 2013 and 2017 polls.
Although he operates from his Capital Hill office, Raila often retreats to Orange House to hold critical meetings with his trusted lieutenants, especially in times of political crises or to organise main activities of the party because it can accommodate hundreds of delegates.
Yesterday, ODM executive director Oduor Ong'wen confirmed to the Star that they were indeed preparing to leave Orange House.
Ong'wen said their lease has expired and an advert for new office space will soon go out.
"Our lease is coming to a close and in the course of the week we are going to advertise. You know this is something that once we finalise, becomes public. It can't be a secret," Ong'wen said.
However, the chief executive could not disclose any preferred location for the next secretariat of the country's second largest political party. Many property owners are usually reluctant to rent out premises to political outfits and parties often have to search among friends and supporters to host them – whether paying or free.
"Give us three or four days you will be advised," Ong'wen told the Star.
The end of the lease comes at a particularly difficult period for the party, amid reports that it is facing financial challenges. ODM is one of the few parties entitled to funding from the Political Parties Fund.
Party funding was among the deliberations in Mombasa a fortnight ago, with concern being raised about some elected leaders failing to send monthly contributions to the party as required.
The Registrar of Political Parties, Lucy Ndungu, however told the Star that eligible parties have been receiving their allocation from the Political Parties Fund.
"We are closing the financial year. The money is continuously disbursed quarterly," Lucy said.
HIGH END
Major political parties with ample funding have recently taken up tenancy in upmarket areas like Kilimani, Lavington and Kileleshwa with the more financially endowed Jubilee Party boasting of perhaps the most prestigious and conspicuous offices.
Jubilee occupies an eight-storey complex along Thika Road where it hosted hundreds of employees, and strategists and consultants engaged for the 2017 General Election.
Kalonzo Musyoka's Wiper party is set to relocate from its Lavington headquarters to a modern three- storey building on the southern bypass in Nairobi. Ford Kenya, on the other hand, is housed in a residential house in Riara area of Kilimani while ANC is based in a house in Lavington.
Known in his Homa Bay backyard as Aliko Dangote because of his financial muscle, Omondi was recently appointed by the government to the board of the National Oil Corporation.
The strategic parastatal plays a pivotal role in the petroleum sector and will be in the lead as Kenya starts to export oil.
His appointment by Energy Secretary Charles Keter three weeks ago, and his decision not to renew the lease have sent pundits into speculation mode on whetehr he has fallen out with Raila. Omondi did not respond to the Star's phone calls but some insiders defended his decision, saying he has been philanthropic since the rent ODM paid was far below the value of the property.
Reputed to be one of the financiers of the party and ODM's presidential kitty, Omondi was Raila's chief of staff when he was Prime Minister in the Grand Coalition government with Kibaki.
He was credited – and condemned in equal measure — for the 2013 elections debacle that saw Raila lose the presidential election to the Uhuruto ticket.
Last year, Omondi contested against ODM Chairman John Mbadi for the Suba South Parliamentary seat in the primaries but lost in controversial circumstances. He protested that his rigging out was planned and executed in his own property.
"All of you know that I own the Orange House building, and that is where the plan to rig me out was hatched, but I haven't complained. Raila must give us a break and let voters decide who their leaders will be," Caroli said, protesting against ODM's decision to campaign against independent candidates.