Miguna rebukes preachers of 'artificial peace', says Raila a coward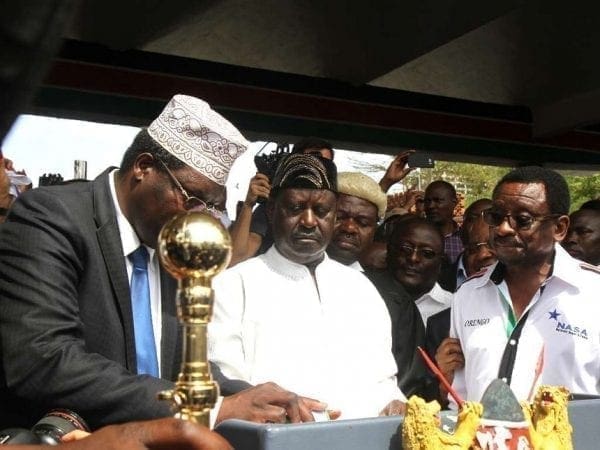 Lawyer Miguna Miguna has attacked Opposition leader Raila Odinga yet again on his building bridges initiative with President Uhuru Kenyatta.
Via Twitter on Monday, he said those preaching "meaningless reconciliation" are beneficiaries of the culture of impunity.
Uhuru and Raila shocked many by shaking hands on March 9 and taking steps to ensure peace and development across the country.
Raila's latest move, as part of the initiative, has been a two-day retreat with ODM leaders in the wake of internal rebellion and a political assault by Deputy President William Ruto.
Miguna, however, has maintained his view that Raila is "a coward who agreed to warm up to Uhuru to avoid treason charges".
This was a possibility after the Opposition leader had himself sworn-in as the People's President on January 30.
Mguna, who terms himself the General of the National Resistance Movement, also said Raila is desperate for attention.
"From March 9, Raila has met Mungiki, [former Presidents Daniel arap Moi and Mwai Kibaki], businessman Chris Kirubi, [Charles] Njonjo, Jubilee Party Secretary General Raphael Tuju, Muhoho [Kenyatta], [Suna East MP] Junet [Mohamed], a Luo Council of Elders splinter group and all idlers to 'brief them on the building bridges initiative'. On his part, Uhuru hasn't even briefed Jubilee Party," Miguna said.
He added: "Facts are stubborn. [Raila] is a coward. That's why he surrendered to [Uhuru] on March 19. I did not surrender. I was abducted … I did not confess to trumped up charges. I'm ready to face them. Raila is afraid of treason. I'm not."
Miguna has been deported twice from Kenya following Raila's swearing-in, at which he stamped documents.
He went on to say: "Those preaching artificial, hollow and meaningless peace', 'reconciliation' and 'moving on' are either beneficiaries of the culture of impunity and the institutionalisation of electoral theft or are those blinded by ethnic chauvinism or moral and/or intellectual dishonesty," he said.
Miguna said he will expose thieves, murderers and liars.
"For as long as I'm alive, I'll speak the truth fearlessly. I will remind Kenyans of the atrocities that have been committed against them. I will fight for justice. I don't care about being abused, insulted or threatened," he said.
On Sunday, Coast leaders put Raila to task over his handshake deal with Uhuru, saying they were yet to see benefits.
Eight Coast politicians told Raila that there was nothing to smile about after the deal but their leader said the region's issues were being addressed.