Uhuru reaffirms stand against changes to Constitution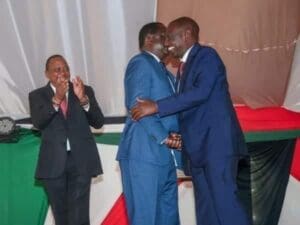 President Uhuru Kenyatta has dismissed calls for constitutional change despite pressure by a section of political leaders seeking expansion of the Executive arm of government.
In his Madaraka Day speech in Meru on Friday, Uhuru lauded the current Constitution saying the changes will not solve Kenya's problems.
He said that the leaders must be honest enough to admit that changes to laws or processes are only a part of the solution.
"The work we are called to do is to build trust and then change hearts and minds. We have many laws in Kenya and a fine Constitution. It is not the letter that will get us to our destination, it is the spirit that we have when obeying the law."
Uhuru asked the people to build trust in one another to ensure that the government helps in solving some of the most pressing problems we have.
"That is why I am fighting hard to implement the 'Big Four' agenda. Its pillars seek to directly benefit the lives of citizens, particularly those who are having the toughest time," he said.
The president asked leaders to end the five-year cycle of poll chaos asking them to deal with issues that brew divisions that threaten the country's stability.
Uhuru said that "some political leaders have made their careers dividing the people, not bringing them together."
"This is the truth, and we need to deal with it as leaders and as citizens. Unity is like an engine for a nation that hopes to escape the destructive pull of poverty and civil conflict, and even civil war. There are many different moving parts, but they are all joined in driving forward the vehicle so that it can achieve escape velocity."
The President said that the people should learn from many countries in Africa "which provide terrifying evidence of what happens to peoples who are disunited".
"A house divided against itself cannot stand, let alone prosper. We cannot allow political competition to divide us even more because we created Kenya to rise to the heights, not to be in fear every electoral cycle."
"Our habit of destructive political competition has certainly divided us, but there are other, subtle forces. It may be a long wait to get a public service; it may be disrespect for our language and culture; or it may be that in the past, our region had less than its fair share of Kenya's resources — all these have played their part in dividing us, and in delaying the dreams of our founders," he added.
He called upon the public to have a clear choice and be bold enough and reject politics of division.
"This is the spirit that I am committed to. As President and as a citizen, I seek understanding and reconciliation between all Kenyans. I know that our children, to whom we will bequeath this matter, require us to take every step to ensure our nation has the unity that will save them from lives of poverty, hatred, and failure."
"This Madaraka Day, and every day henceforth, that is the profound choice before every one of us. If, like me, you choose reconciliation and unity, prepare yourself: it is no easy task."
He asked Kenyans to listen respectfully to each other's fears and grievances to avert conflicts and even violence among the citizens.