VIDEO: Uhuru takes handshake to Mombasa, reconciles with Joho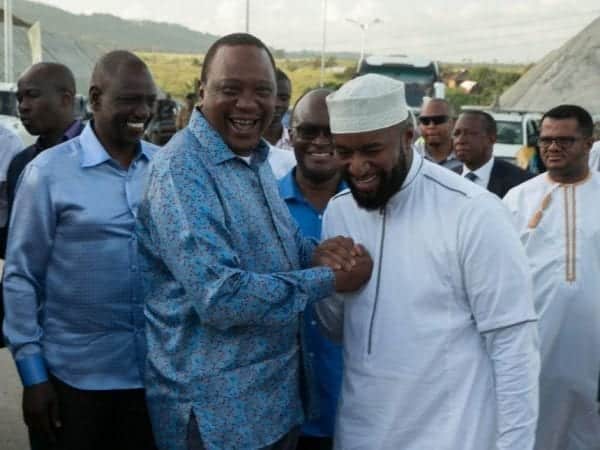 President Uhuru Kenyatta on Thursday extended the handshake to Mombasa where he vowed to set aside his differences with Governor Hassan Joho.
The leaders shook hands after jointly commissioning the Miritini-Mwache-Kipevu link road at Miritini.
Uhuru and Joho said they are both only interested in unity.
"At first we used to speak at each other. Now we want to speak with each other so we can find solutions to our problems," Joho said.
Uhuru said there is a lot to be achieved with leaders working together.
About insults and chest-thumping, Uhuru said: "Those things don't help. They only bring problems."
"We must serve Kenyans equally. But we will only do so if we as leaders can sit down and talk out our issues first," Uhuru said.
Joho said he is eager to work with the President but said he will still raise issues that need to be raised.
"We will work with you. We will work with your government to uplift the lives of the people of Mombasa and Kenya," Joho said.
With a light touch, he said he was at first scared that he was being followed by the GSU on his way to the function only to learn that theGSU were actually facilitating his movement.
Uhuru and Joho have been at loggerheads over projects in Mombasa with Joho accusing the President of taking credit for projects funded by international partners.
As a result, Joho was blocked from attending state functions with the two leaders trading barbs.
However, on Thursday, the beef was officially settled and they vowed to work together.