Disbelief as Trump invites Russian President Putin to visit US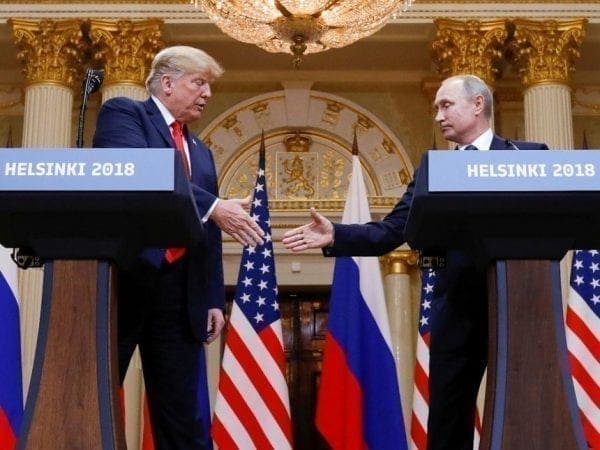 President Donald Trump has invited Russian leader Vladimir Putin to visit America, in a move that drew startled laughter from a US intelligence chief.
"That's gonna be special!" said Director of National Intelligence Dan Coats, when he was told about the invitation during a live interview.
A row is continuing over Trump's first summit with Putin, in Helsinki, where they talked privately.
Opposition Democrats say there should be no more one-to-one talks.
"Until we know what happened at that two-hour meeting in Helsinki, the president should have no more one-on-one interactions with Putin," said the top Democratic senator, Chuck Schumer, in a statement. "In the United States, in Russia, or anywhere else."
Trump's presidency has been clouded by allegations that Russian hackers meddled in the 2016 US presidential election in his favour. The Kremlin denies the allegations.
In Helsinki, Putin offered access to 12 Russians indicted in absentia by the US authorities over the alleged interference, on condition the Russian authorities could question 12 Americans over a different case. Trump first praised the suggestion as "incredible" but later rejected it.
Since his return from Finland, he or the White House have had to correct or clarify other comments regarding Russia, creating confusion and prompting the Democrats to demand details of his private talks with Putin.
Trump may have been encouraged by recent opinion polling showing that while the public at large is uneasy with Trump's Russia policies, his Republican base – by a sizeable majority – is fine with his performance.
The president campaigned on closer ties with Russia, a goal that had been thwarted during his first year in office. With his base still behind him, Trump appears ready to press on with his efforts.
Putin, in power in Russia since 2000, last visited the US in 2015, when he met President Barack Obama, Trump's predecessor, on the sidelines of the UN General Assembly in New York to discuss the conflicts in Ukraine and Syria.
On Thursday, White House press secretary Sarah Sanders tweeted that discussions about a visit by Putin to Washington DC this autumn were already under way. There was no immediate word from Russia.
The announcement appeared to come as a surprise to US intelligence chief Coats, who was told about it during a live interview at the Aspen Security Forum in the state of Colorado.
He added that he did not yet know what Trump and Mr Putin had discussed during their meeting, at which only their interpreters were also present.
Asked at the post-summit news conference in Helsinki whether he would extradite 12 Russian intelligence agents indicted in the US for hacking Democratic Party computers, Putin said he would meet the US government "halfway".
He said Russia wanted, in turn, to question US citizens in a case against financier Bill Browder, who was instrumental in the US imposing sanctions in 2012 on top Russian officials accused of corruption.
At the same news conference, Trump said: "He [Putin] offered to have the people working on the case come and work with their investigations with respect to the 12 people. I think that's an incredible offer."
However, now he says he "disagrees" with the proposal.
The idea of allowing a foreign power to quiz US citizens sparked outrage and the US Senate voted 98-0 against it. Secretary of State Mike Pompeo said it was "not going to happen".
Browder has told the BBC he is glad Trump "isn't going to hand me over to President Putin".
President Trump has also clarified remarks at the news conference in which he said he saw no reason for Russia to have meddled in the 2016 US election – despite US intelligence concluding just that.
Speaking to CBS News on Wednesday, Trump said he held Putin personally responsible for interfering in the election, and that he was "very strong on the fact that we can't have meddling".
Putin has also described the summit as "successful" but warned "there are forces in the United States that are prepared to casually sacrifice Russian-US relations".