Miguna Miguna boarding back to Kenya early next month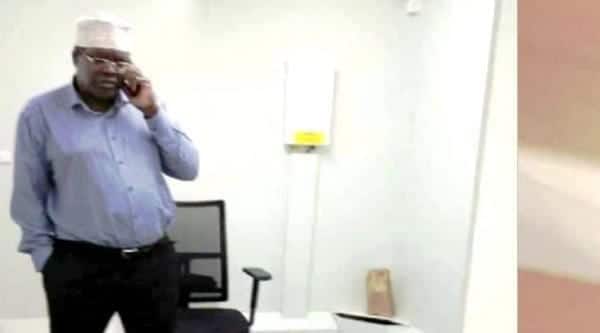 NAIROBI, Kenya, August 23- Firebrand lawyer and politician Miguna Miguna has declared that he will be boarding to Kenya early next month, despite having been deported twice to Canada in the wake of the dramatic swearing in of Opposition leader Raila Odinga as the People's President.
Miguna insists he holds dual citizenship, but the Kenyan government said he has never regularized his papers in line with the new constitution that requires citizens who had acquired foreign nationality to re-apply.
In a post on his social media platforms, the Canadian-based lawyer and a fierce critic of the Jubilee regime said he is certain of entering the country after a previous attempt was thwarted by police and Immigration officials who bundled him into a plane after dramatic scenes drama at the Jomo Kenyatta International Airport.
"For the cowards with low self-esteem celebrating the fact that @UKenyatta and @RailaOdinga destroyed my valid Kenyan passport and my house, abducted, detained and tortured me before forcefully removing me, mark this in PERMANENT INK: I am coming back after September 4th. Viva!," it reads.
His deportation is the subject of a high-stake court case in which the state has argued that he was to blame for not being let into the country because he declined to produce his Canadian Passport.
But his lawyers have accused the government of defying a court order that blocked his deportation and wanted him produced in court.
When he was deported, Miguna was all praises for Odinga but has lately changed tune, calling him a betrayer because of his dalliance with President Kenyatta following the March handshake that has jolted the country's political arena.
His troubles started after he sworn in ODM chief Raila Odinga, his political ally turned foe as the people's president on late January following the disputed re-election of President Uhuru Kenyatta.
Since then, he has launched consistent scathing attacks against Odinga, the Government and its supporters while calling for a revolution.
The lawyer was arrested on February 2 and was held incommunicado for five days.
On February 6, a physically fatigued Miguna was produced before a Kajiado Magistrate Court to answer to charges of treason but he refused to take a plea.
According to the Kenya National Commission on Human Rights, the lawyer failed to heed to their advice, worsening an already wanting situation.
The deal was that Miguna surrenders his Canadian passport since his Kenyan one had since been destroyed, has his day in court according to KNCHR chairperson Kagwiria Mbogoria statement on March 29.
That was hours after he was deported.
"I was disappointed with Miguna because the court order had allowed him to use his Canadian passport to gain entry in the country. He adamantly refused to use the papers he had used to travel with and his refusal really also boggled us also…" Mbogoria told journalists.
She revealed that Miguna, "was a bit boisterous at the immigration desk. He did push around some immigration officers and forced his way to the baggage collection area. That was in breach of the immigration regulations."
"You cannot make an entry from a foreign country, even as a Kenyan, with a national identity. There are certain regulations, and we are not all above the law."
By JOSEPH MURAYA