Why a phone chat with Governor Mike Sonko is risky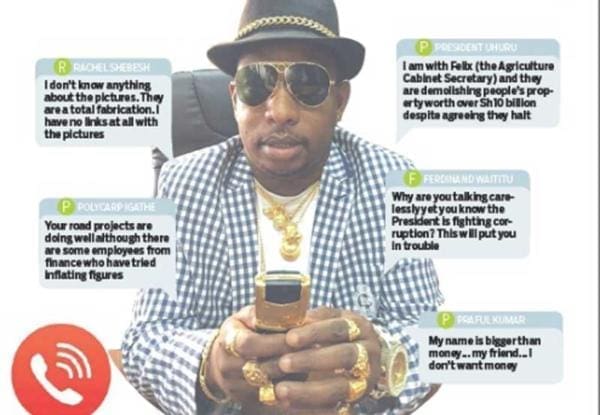 Before you think of hitting the dial button for Nairobi Governor Mike Sonko's number, it would be wise to ask yourself how much of your dirty linen you want aired in public.
This, by the way, is advice straight from the mouth of the capital city's top boss whose other honorary titles should include blingman extraordinaire, slayer of protocol, boxer of walls, destroyer of clamps and — the latest addition — violator of privacy.
Speaking yesterday during an interview at a radio station, Sonko said the recordings were the only way to fight impunity.
"Whoever is calling me should make sure that they don't tell me to steal or that they want to bribe me because I will expose them."
A few days ago, Sonko was said to have recorded businessman Praful Kumar, who was later arrested by Ethics and Anti-corruption Commission detectives on suspicion of attempting to bribe the governor.
"When you are fighting impunity you must lay traps. This applies to the recent arrest of the Hindu developer. You can't say that someone is corrupt and you don't have evidence to take him to court.
"Some of these things must happen in order for corruption and impunity to be defeated. You must have evidence that someone is offering a bribe. You cannot just accuse someone of being corrupt without proving it," Sonko stated.
Total fabrication
These shenanigans involving Sonko did not start recently. Back in 2013, photos of the county boss in a compromising situation went viral on social media. When asked about the pictures, Sonko denied having anything to do with them.
"I don't know anything about the pictures. They are a total fabrication. I have no links at all with the pictures."
In 2014, the then senator got into trouble when he intervened to stop an impending demolition in Nairobi's South B estate in an operation sanctioned by Agriculture Cabinet Secretary Felix Koskei to get rid of structures on public land. Sonko's solution? Calling President Uhuru Kenyatta and putting him on speaker phone.
Your Excellency, niko hapa na waziri Felix na wanabomoa nyumba worth Sh10 billion na tulikuwa tumekubaliana wasibomoe (I am with Felix the minister and they are demolishing property worth Sh10 billion despite our agreement that the demolitions be halted," Sonko told Uhuru, who directed that the exercise be halted.
If he could do this to the President, what can't he do to mere mortals? Then there were the leaked conversations with his then deputy, Polycarp Igathe. Just before Igathe submitted his surprise resignation letter five months after deputising at City Hall, and barely a few days after denying that there was bad blood between them, a phone conversation was leaked.
In the audio, Sonko briefs Igathe on road projects. He even tells him about workers at City Hall who were 'cooking' vouchers.
"Your road projects are doing well, although there are some employees from Finance who have tried inflating figures," Sonko informed Igathe before going ahead to identify those the deputy governor look out for.
And last week, a recording alleged to be that of Kiambu Governor Ferdinand Waititu calling Sonko after the arrest of the former's wife shocked many. Mr Waititu's wife, Susan Wangare, was arrested by Nairobi County officials for constructing a building without the relevant approvals from the urban and physical planning department.
As the conversation with Waititu progressed, Sonko made sure the red record dot was solid on a second device. And the conversation was not about the greater metropolitan transport corridor.
"Hallo mdoss…eeehhh bwana, wachilia watu yote bwana," Waititu says.
"Hio order haitoki kwangu, pigia mdosi," Sonko responds.
"Nipigie mdosi kwa nini?" Waititu asks.
"Order imetoka juu… na wee pia usipigane na hii vita ya corruption," Sonko continues.
Leak accidental
Sonko has said the leak was accidental.
"Like the President, you can't record him because he is not corrupt. As for Waititu, he was on record in all the media houses the previous day criticising me and the President, saying that we were fighting corruption too fast although he did not mention any names. Nobody was controlling me and there were no orders from above because the orders to arrest his wife and workers were mine," he said yesterday.
The governor did say that he does not record all calls. So go ahead. Press that call button. But don't be surprised to see your frayed vests and stained undies hanging out to dry in the chilly Nairobi weather