Why Uhuru's visit to the White House carries great symbolism for Kenya, Africa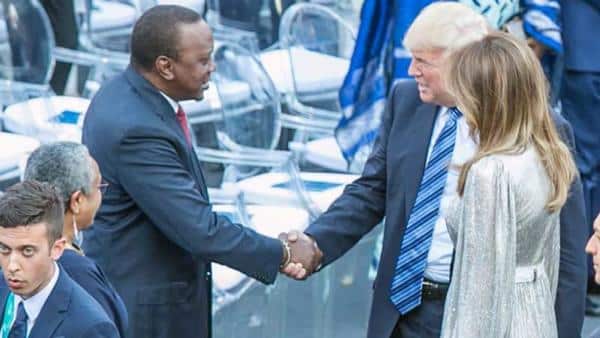 "A freer, more prosperous Africa is a vital partner in solving some of the world's most pressing problems: poverty, immigration, climate change, terrorism," said President Uhuru Kenyatta while addressing the 2017 G7 summit in Taormina, Italy.
It was the first time a sitting Kenyan president was addressing the leaders of the world's richest economies which includes the US.
Since taking office in 2013, President Kenyatta has sought to reset Kenya's position in the world. Perhaps taking cognizance that Kenya has punched below its weight despite it being an economic and political powerhouse in the region, he has sought engagement abroad.
Yesterday's announcement that Mr Kenyatta had been invited to the White House for talks with US President Donald Trump will no doubt amplify Kenya's rising role in the region and the continent. A day before, President Kenyatta had witnessed the signing of a peace deal between President Salvar Kiir and his estranged former Deputy Riek Machar in Khartoum. South Sudan has been in turmoil since the breakout of a civil war in 2013.
White House Press Secretary Sarah Sanders' statement that the meeting will reaffirm Kenya's position "as a cornerstone of peace and stability in Africa," thus has a familiar ring to it.
Yet the symbolic significance of Mr Kenyatta's visit to the White House is much more than that. To appear side by side with the world's most powerful man bestows the country and the person certain prestige and honour. Some of this is not quantifiable or immediate, but such contact carry great significance on socioeconomic and political policies like boosting investor confidence and thereby promote Foreign Direct Investment which at Sh70 billion is way too low for East Africa's biggest economy.
The visit will also offer Mr Kenyatta the chance to sell his Big 4 agenda that he believes holds the key to creation of jobs and lifting millions of Kenyans out of poverty.
The windfall from Barack Obama, Mr Trump's predecessor visit in 2015 or the visit by President Mwai Kibaki to the White House in 2003 is still being felt. It won't be different with Mr Kenyatta.
However, for those Kenyans feeling hard done by, President Kenyatta's appearance with a US president is of little significance.
Hopefully, Mr Kenyatta's appearance with Mr Trump will, if nothing else, nudge him to promote a clean, efficient, and more responsive government because, ultimately, he will be judged by the standard of the company he keeps.
Lately, he has shown the spine to fight corruption which for far too long has made it harder for the millions to climb the ladder of opportunity. He deserves commendations, but there is more he could still do and leave a lasting legacy.
Why Uhuru's visit to the White House carries great symbolism for Kenya, Africa