Kenyan professor facing deportation from US wins brief reprieve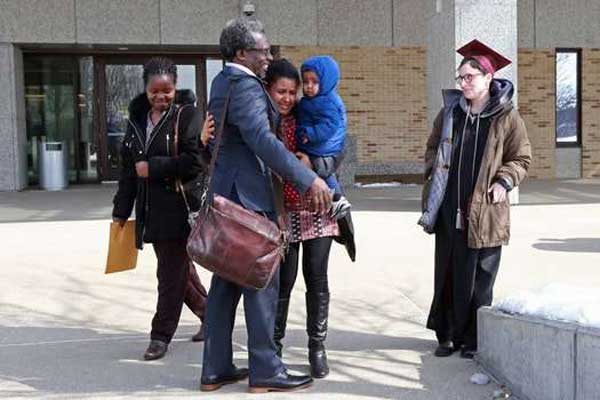 A Kenyan professor who has been at the centre of a long-running legal battle with US immigration gets to stay for now, his lawyer disclosed on Friday.
But the lawyer also acknowledged that the Augsburg University professor, Mzenga Wanyamwa, still faces an "uphill battle" to avoid deportation.
The don's attorney, Ms Rachel Petersen, said Mr Wanyama received a stay of deportation from the Board of Immigration Appeals (BIA) pending its decision to reopen his immigration case.
After an earlier bid for asylum failed, Immigration and Customs Enforcement (ICE) had allowed Mr Wanyama and his wife to stay as long as they made regular check-ins.
But under Donald Trump's administration, immigration authorities have acted more aggressively on final orders of removal, and Mr Wanyama was told in April he had 90 days to show a path to legal status or leave the country.
ALTERNATIVE PLAN
The don's deadline to leave the US has been extended by the ICE at least twice and his deportation had been slated for September 9 but Minnesota Senator Amy Klobuchar's office asked for 30 more days so he could get a visa to Namibia.
Mr Wanyama had made a contingency plan to teach at an Augsburg satellite campus in Namibia after ruling out a return to Kenya.
"If BIA decides to reopen Wanyama's case, he and his wife will have to reargue it before a local immigration judge but they have another check-in with ICE on October 1," said Ms Petersen.
Mr Wanyama has been teaching English literature at Augsburg for more than a decade after having received his doctorate degree from the University of Minnesota. The university lecturer went to the US in 1992 on an exchange visa to study at Howard University in Washington, D.C.
Karen Zamora of Star Tribune contributed to this story.
By CHRIS WAMALWA
-nation.co.ke