Nairobi MCAs Impeach Speaker Beatrice Elachi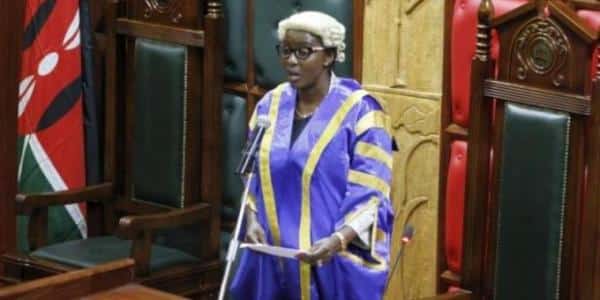 NAIROBI, Kenya, Sep 6 – Nairobi County Assembly Members on Thursday unanimously voted to kick out Nairobi Speaker Beatrice Elachi on grounds of abuse of office and gross misconduct.
103 MCAs voted in support of the motion , 2 voted against it while 2 others abstained in a motion which was tabled by Waithaka MCA Anthony Karanja.
The MCAs had to amend key sections of the standing orders to shorten the process of the removal of County Assembly Speaker.
Karanja has accused Elachi of interfering with procurement process, undermining the authority of the County Assembly Service Board and failing on leadership.
"The conduct of the Hon. Beatrice Elachi through her actions and omissions, has caused the Assembly great embarrassment and brought the Office of the Speaker into disrepute contrary to the gamut laws on conduct of state officers of her caliber. This Assembly therefore resolved to sanction and remove Hon. Beatrice Elachi as holder of the Office of the Speaker," he said.
She was also accused of contravening County Assembly Powers and Privileges Act,2017 when she unilaterally allowed police officers not attached to the Assembly to arrest several staff without consulting the board.
"The Speaker unilaterally, unprocedurally and illegally usurping the functions of the board thereby purporting to take certain actions which can only emanate from the board," read part of the motion.
They are further accusing Elachi for spending a staggering taxpayers money amounting to Sh550,000 to travel to Dubai to be awarded an honorary degree by the London Graduate School.
Still on the use of public resources, they claim that Elachi spent taxpayer's money on 'dubious' travel to Dallas in US ostensibly for Diaspora Women Network Conference when in actual sense she was travelling for plastic surgery and knee surgery.
This, according to them was captured by the CIC Insurance in their claim for Sh1 million