Uhuru arrives in Beijing, to hold talks with Xi Jinping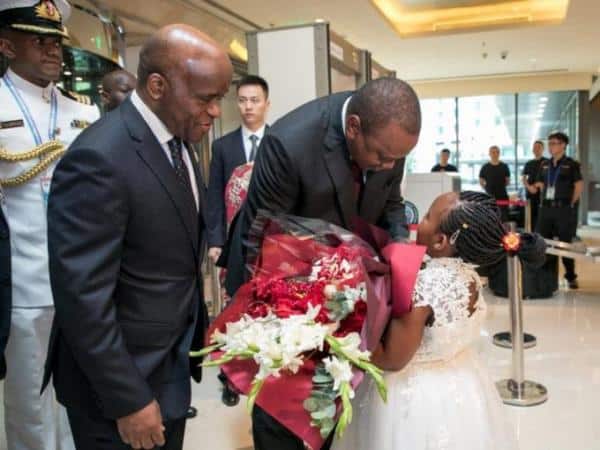 President Uhuru Kenyatta has arrived in Beijing, China, to attend the China-Africa Forum for Cooperation (FOCAC) 2018 Summit.
The meeting brings together all African nations and China aimed at boosting the continent's development.
Besides taking part in the Summit, the President is scheduled to hold bilateral talks with his Chinese counterpart, President Xi Jinping.
The talks will focus on trade, infrastructure, investments, education and technology.
While in Beijing, the President will witness the signing of an Economic and Investment Cooperation Agreement between China and Kenya.
The President and his delegation are also expected to engage in advanced discussions on financing for Phase 2B of the Standard Gauge Railway from Naivasha to Kisumu.
The discussions will also cover financing for the Western Bypass in Nairobi.
Uhuru's talks are also expected to advance Kenya shift from pure debt financing to embrace Private Public Partnerships.
He will also explore the need to explore innovative off-balance sheet financing for the country's infrastructure needs.
China has been a strong development partner, playing a significant role in recent milestones achieved by Kenya.
It has also helped in the financing and construction of the Standard Gauge Railway with the first phase from Mombasa to Nairobi already operational.
The construction of Nairobi-Naivasha section is ongoing.
The goal of the 2018 FOCAC meeting is the promotion of economic and trade cooperation between China and African economies as it seeks to synergise China's Belt and Road Initiative, the United Nations' 2030 Agenda for Sustainable Development, the African Union's Agenda 2063, and the development strategies of individual African countries.
During the summit, the Heads of State will discuss and ratify two major documents, the Beijing Action Plan 2019-2021 and the Beijing Declaration, which will act as guides for China-Africa relations.
The vision of the China-Africa relations is anchored on a desire for a shared future where all nations can prosper through cooperation and mutually beneficial partnerships.
The FOCAC summit, that will be held at the Great Hall of the People, will be attended and addressed by United Nations Secretary General Antonio Guterres and the African Union Commission Chairman Moussa Faki.
The President is accompanied by First Lady Margaret Kenyatta, several Cabinet Secretaries and Principal Secretaries.
On her part, the First Lady will attend a Conference on AIDS Prevention and Control where she will deliver a keynote address on behalf of the East African region.
She will be joined at the conference by other African First Ladies who will later release a joint declaration on AIDS prevention.