Lawyer blames Judge for the death of Mr. Gakuo in prison cell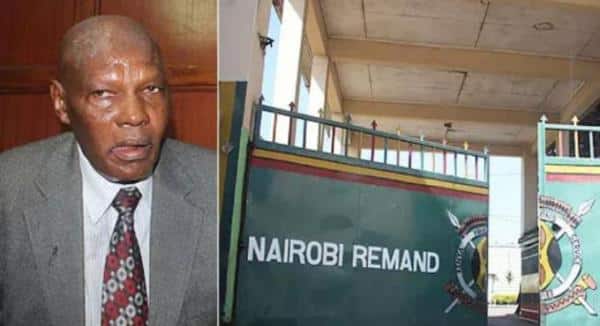 While applying for the release of Mr Gakuo, his legal team had cited his health complications, saying he was suffering from high blood pressure and chest pains.
The death of former Nairobi Town Clerk John Gakuo after falling ill in a prison cell on Tuesday should be a wake-up call to judges who brazenly disregard prisoners' complaints of ill-health, says lawyer Assa Nyakundi.
Mr Nyakundi, who was representing Mr Gakuo, 68, at the High Court where the former city boss was fighting a three-year sentence handed to him in May, cited a recent court ruling which blocked him from being released on bail pending appeal.
"Unfortunately, the judge did not think that his medical conditions were compelling enough to have him released," Mr Nyakundi told journalists outside Nairobi West Prison, where Mr Gakuo was being held before his sudden death.
"I know from my experience as a lawyer that medical issues can provide exceptional circumstances in which a person can be released from jail pending the hearing of the appeal," he added.
While applying for the release of Mr Gakuo, his legal team had cited his health complications, saying he was suffering from high blood pressure and chest pains and had been in and out of hospital due to frailty.
PRONOUNCED DEATH
His incarceration, the team had said, would cause him irreparable harm. Mr Nyakundi said the judge did not consider their argument compelling enough.
"He did not think that at that point, we had demonstrated to him that there was no point in holding him in jail; that he needed to be released," he said.
"Given this case of John Gakuo, I think there is a compelling reason for us in the justice system to take medical issues seriously, especially when it involves prisoners who do not have the latitude and the freedom," added the lawyer.
He said the head of the prison had told him Mr Gakuo looked perfect in the morning; that he woke up as usual and had his breakfast.
As per prison tradition, prisoners head to their cells after breakfast to await their assignments.
"Unfortunately, when he went back to his room, I'm told Sammy Kirui, the former Local Government PS (jailed on the same day as Mr Gakuo over the same matter), was the first person to notice that something was wrong.
He quickly informed an officer and Mr Gakuo was taken to Mbagathi Hospital where, unfortunately, he was pronounced dead," said Mr Nyakundi.
SICKLY MAN
The body was initially preserved at the City Mortuary before it was ferried to Lee Funeral Home later in the afternoon.
When the Nation gained access to the Nairobi Remand Prison in Industrial Area in June, Mr Gakuo cut the figure of a sickly man. He was in thick socks and black rubber shoes.
Though the prison management said it treats detainees above 65 with care, it was clear the prison environment was taking a heavy toll on him.
Among those who were hard hit by the news of the death is Mr Philip Kisia who, in 2009, succeeded Mr Gakuo as town clerk.
"The town clerk was basically the chief executive officer of the city. He was the person in charge of the strategic direction of the city, was in charge of all the resources and was there to provide services to the residents of Nairobi," said Mr Kisia.
The position was scrapped with the advent of county governments. In Mr Kisia's view, Mr Gakuo was a forthright man who could not have committed the offences he was jailed for.
NEVER CORRUPT
"John, as you all know, never condoned corruption. He was never corrupt, and he left a legacy. It's sad that people who have looted billions of shillings walk scot-free in town while people like John, who are so clean, can be arraigned in court, embarrassed, charged, and finally jailed," he said.
Said Mr Nyakundi: "I was coming to see him so we could do final preparations for tomorrow (today). He was looking forward to getting the country know that the John Gakuo that was in prison is actually not a criminal."
"We were going to demonstrate to the court that John Gakuo did not deserve to be convicted," he added.
But Mr Douglas Ogoti, the magistrate who jailed Mr Gakuo and three others over the questionable way in which Sh238 million was spent in buying cemetery land, did not see Mr Gakuo in the same light as his defenders.
Having listened to the case — which was investigated by the Ethics and Anti-Corruption Commission (EACC) in which Sh283 million had been spent on the plot in Mavoko even though the seller only received Sh110 million — the magistrate concluded that Mr Gakuo defied protests from various people and approved the payment.
-nairobinews.nation.co.ke