Mzee Jomo Kenyatta's London flat attains historical significance
Mzee Jomo Kenyatta's London flat attains historical significance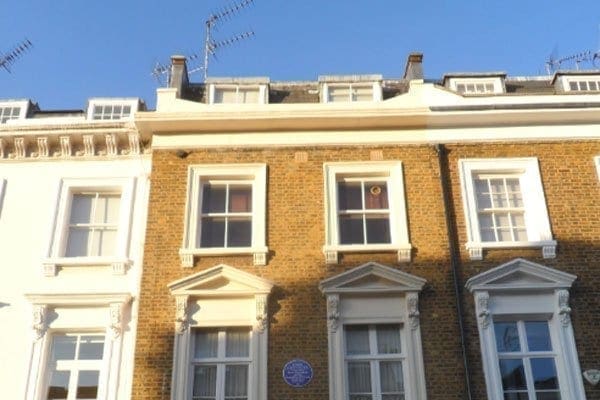 Mzee Jomo Kenyatta's tenancy at House No 95 Cambridge Street, Pimlico, in Central London between 1933-1937 is a constant reminder of the plight of immigrants. During his well-documented stay, Mzee Kenyatta lived in penury and often owed rent to his English landlady, Mrs Hocken, occasionally facing eviction. Notwithstanding the privation suffered in the first floor flat of this Victorian town house as a London School of Economics anthropology student, the residence has now posthumously earned a place in the history books. It is perhaps the most recognisable Kenyan address in London after the High Commission located at 45 Portland Place, Marylebone.
HISTORICAL BUILDING
The property built sometime in Queen Victoria's era (1837-1901), is now a listed historical building and was commissioned by English Heritage on March 11, 2005. It is commemorated with a blue plaque which reads: Jomo Kenyatta, 1894-1978, First President of Republic of Kenya lived here from 1933-1937. Pimlico, a small area within the City of Westminster, is known for its garden squares and regency architecture, which refers to classical buildings built in the UK during the Regency era in the early 19th century when George IV was Prince Regent. In the "politics and administration category", the blue plaque on Mzee Kenyatta's former flat is among 309 similar ones installed across the City of Westminster.
FAMOUS PERSON
A blue plaque is a permanent sign installed in a public place to commemorate a link between that location and a famous person, event, or former building on the site, serving as a historical marker. English Heritage manages the National Heritage Collection which comprises more than 400 of England's historic buildings, monuments and sites spanning more than 5,000 years of history. Another commemorative plaque immortalising Mzee Kenyatta is displayed 340km away from London at Chorlton Town Hall, Chorlton-on-Medlock, Cavendish Street, Manchester, North West of England. A red plaque reads: Fifth Pan African Conference was held here 15th-21st October 1945. Decisions taken at this conference led to liberation of African countries. Participants in this historic event included Ras Makonnen, Kwame Nkrumah, Jomo Kenyatta, Amy Garvey, W.E. Du Bois, George Padmore.
Gitau wa Njenga with Uhuru Kenyatta outside No 95 Cambridge Street in
London where Mzee Kenyatta lived as stu-dent between 1933-1937
HISTORICAL BUILDING
Under the blue plaque scheme, founded 150 years ago, the property is now a listed historical building and may not be demolished, extended, or altered without special permission from the local planning authority. Before a blue plaque is approved by English Heritage, at least 20 years must have passed since a candidate's death, the building must survive in a form that the commemorated person would have recognised and be visible from a public highway. Mzee Kenyatta arrived in London on March 8, 1929 and was offered accommodation at No 57 Castletown Road in West London by Ladipo Solanke, a Nigerian lawyer and leader of West African Organisation. He moved to live near Victoria after Solanke charged him "too much" for rent.
NATIONAL HERITAGE
It was at this flat, near Victoria train station that Mzee Kenyatta concluded writing his book, Facing Mount Kenya, which was published in London in 1938. On March 11, 2005, the blue plaque was unveiled in London by Mzee Kenyatta's third born son, Uhuru Kenyatta (then Leader of Official Opposition and Gatundu South MP), Minister of State for National Heritage, Najib Balala and Kenya High Commissioner to London Joseph Muchemi. Also present at the special ceremony organised by English Heritage were close Kenyatta family members: Muhoho Kenyatta, grand children Tom and Claudia (the children of Peter Magana, Mzee Kenyatta's son with his English wife Edna), Jomo, Soya and Nana Gecaga (children of Udi Gecaga and Jeni Wambui Kenyatta). Other invited guests included African foreign diplomats accredited to the Court of St James's, Kenyan expatriates and citizens living in the UK and a host of British citizens.
Uhuru Kenyatta (centre)Joseph Muchemi,former Kenya High Commissioner to the UK and Najib Balala,former minister for National Heritage at the unveiling ceremony of blue plaque outside No 95 Cambridge Street in London where Mzee Kenyatta lived as stu-dent between 1933-1937.PHOTO/GITAU wa NJENGA
AFRICAN STUDENTS
"My father was among a small group of African students who had come to London to study and push for reforms in their respective countries before returning home to continue their struggle for independence," said Uhuru during the commemoration ceremony, adding that his father's stay in Manchester and Storrington had not been properly documented. Constantly short of money, with mounting debts and accumulative rental arrears, in the autumn of 1934, Mzee Kenyatta supplemented his income by working as an extra in the film Sanders of the River. "On behalf of my family, we recognise and thank Frank Watson and Micheal Law who raised the issue of commemorative plague almost 20 years ago and today it is a reality," said Uhuru.
Kenyatta's grand children -Soya, Jomo and Nana Gechaga – children of Udi Gechaga and
Jeni Wambui Kenyatta pictured at a London reception in March 2005. PHOTO/GITAU wa NJENGA
MONUMENT
Balala revealed that former London Mayor Ken Livingstone, launched the campaign to declare Mzee Kenyatta's house a monument 20 years earlier, but it was only in 2003 that the English Heritage approved the proposal. Other prominent Statesmen who have lived in the affluent Pimlico suburbs include Sir Winston Churchill, former war-time British Prime Minister who lived at House No 33 Eccleston Square, William Morris Hughes, former Australian Prime Minister who was born at House No 7 Moreton Place and two British politicians William Hague, former foreign secretary and Michael Howard, former Leader of the Conservative Party. – Sunday Nation.
By Gitau wa Njenga
Gitau wa Njenga is a former London based investigative journalist and a freelance researcher currently based in [email protected]
Mzee Jomo Kenyatta's London flat attains historical significance