The best and worst in Uhuru Cabinet as shake-up speculation rises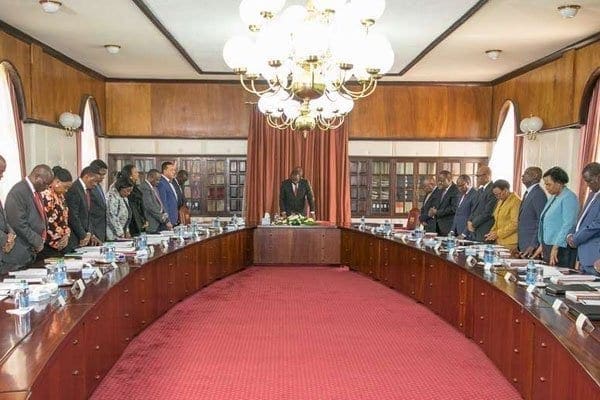 Selfless service, unimpeachable integrity, dedication to duty and unmatched excellence.
This is what President Uhuru Kenyatta asked of his legacy-driven second term Cabinet when they took oath of office in February. Nine new Cabinet Secretaries (CSs) were sworn in on that day, with the others who were retained from the previous Cabinet not required to take a second oath.
Eight months later, the president is furious. And disappointed, stirring debate both about his choice of senior officials and the competence of office holders.
Twice in three weeks, including an outburst in Gikuyu, the President has warned Agriculture CS Mwangi Kiunjuri over the maize payment scandal.
Earlier this month, he trashed his official speech saying his Cabinet, and other junior government officials, had failed him in making it easy for small and medium enterprises to do business.
SUFFERING
President Kenyatta was angry that simple decisions that could be made if his officials "just got out of the office and went to where wananchi are suffering" had not been done.
And as he plans to celebrate a year in office following his inauguration in November 2017, some insiders have hinted to the Nation of a more hands-on president from now on, with even more warnings outside the glare of the cameras, and demand for point-by-point action plans as concerns mount over the below-par performance of the CSs.
"Should you, at any time, feel the weight is too much, just say so, and we will find another deserving Kenyan to take your place," President Kenyatta told the CSs when they took office.
In the public outbursts, the President has continually revealed this disappointment with a team he assembled to get the job done for him, and whom law scholar Prof Makau Mutua says should all be sent home.
LEGACY PROJECTS
"Mr Kenyatta has angrily denounced the malignancy of the CSs, and I agree with him. If Mr Kenyatta feels very strongly, I would suggest that he fireplaces them with competent people. Otherwise his legacy projects will be for naught," Prof Mutua told the Nation.
University of Nairobi's Mr Herman Manyora agrees with Prof Mutua, but he questions President Kenyatta's resolve to rid the Cabinet of lethargic, under-performing ministers.
"Most of the CSs have been disappointing. But the thing that stands out clearly for me since 2013 with regards to the Cabinet is how the President has been so reluctant to get rid of even the most non-performers," he argued.
Mr Manyora opines that some of the failures being seen were by design.
CORRUPTION
"The cabinet is made up of people who are presiding over corruption like in the case of many ministries. That brings you to the painful conclusion that Mr Kenyatta's Cabinet has not been tasked with doing the work. I think the work is being done elsewhere. That is the only way you cannot seek for accountability except for pretence in the public," he said.
Like Prof Mutua, Mr Manyora takes a dim view of the Cabinet, saying it was "pointless to be pointing out and isolating those who have performed and the non-performers."
"Forget about it. They are all the same. So I give them grade C, five out of 10 for the effort. But for results, there cannot be any," Mr Manyora says.
Moi University's Prof Odhiambo Ndege rated the CSs one by one, and ranked Monica Juma of Foreign Affairs as the best at 70 per cent, saying "she possesses the requisite intellectual credentials for the position and has so performed professionally."
STORM OVER MAIZE
Dr Juma is also favourably rated by Consumer Federation of Kenya (Cofek) secretary-general Stephen Mutoro, who ranks Interior CS Fred Matiang'i the highest at six out of 10.
Despite being in the eye of a storm over the maize saga, Prof Ndege still rates Mr Kiunjuri at 50 per cent, with his Tourism counterpart Najib Balala at 55 per cent, with the history professor saying Mr Balala has made "good efforts to sell Kenya's tourism abroad."
He rates Education CS Amina Mohamed at 10 per cent, while Mutoro says Ms Mohamed is "passionless."
Mr Rotich of Treasury is given a three out of 10 by Mr Mutoro citing rising debt, which has now hit Sh5 trillion, and failed austerity measures, while Prof Ndege gives him a 20 per cent.
"History will judge him harshly for misleading the Executive in matters financial, particularly with regards to astronomic amounts of foreign and domestic borrowing," Prof Ndege said of Mr Rotich.
INCREASE IN OIL PRICES
Energy CS Charles Keter was rated 10 per cent, with Prof Ndege saying, "He should be accountable for the mess in the energy sector. In developed countries, the rapid increase of oil prices often brings down regimes."
Mr Eugene Wamalwa of Water was given a 30 per cent score, with Prof Ndege indicting him over his engagement in politics that he said had kept him away from his core mandate.
"These CSs have not met the expectations of Kenyans. The president is frustrated and the ministers appear to have no answers or are held hostage by dark, unknown forces," Makueni senator Mutula Kilonzo Jr said of the Cabinet, asking the president to sack those found to be incompetent.
Already, at least two CSs have been targeted by a section of Jubilee MPs for impeachment. Twice, in March and May, there have been attempts to impeach Health CS Sicily Kariuki, first after she sent former Kenyatta National Hospital chief executive Lily Koros on forced leave and after the emergence of the second National Youth Service scandal. In August, again there was a failed attempt to impeach another CS, this time Mr Rotich.
COLLECTIVE RESPONSIBILITY
Besides their own performance, there is also concern over cases where CSs publicly denounced each other, or contradicted government positions on crucial issues.
Normally, the Cabinet is guided by the principal of collective responsibility, in which ministers should publicly support government decisions made at Cabinet level even if they do not agree with them.
Take the case of Land Cabinet Secretary Farida Karoney and her Environment counterpart Keriako Tobiko on the state of the title deeds in Mau Forest.
While Mr Tobiko had a few days earlier told the National Assembly Environment Committee that the land documents in the Mau "are just pieces of paper because they were issued fraudulently", Ms Karoney had a different story, saying that no one can "just announce that they are fraudulent."
SUGAR SCANDAL
One month later in June, it was the case of the mercury-in-sugar scandal, and the infamous confusion caused by conflicting statements by Dr Matiang'i and his then Trade counterpart Adan Mohamed.
The two CSs later released a joint statement saying they were all united in the fight against fake goods, further confusing Kenyans who were desperate for a clear position on the toxicity of the impounded sugar.
On the controversial Ruaraka land where Senate and National Assembly committees have found that money was paid to an individual for a public land, Ms Mohamed appeared to throw his colleague Dr Matiang'i under the bus.
Dr Matiang'i served as Education CS at the time of the transaction.
"I had the same question when I saw the letter asking us to urgently compensate: These schools have been in place for 30 years, what was the hurry?" Ms Mohamed asked.
DUE DILIGENCE
Dr Matiang'i also featured in another not-from-the-same-script Cabinet saga after Ms Karoney told the Senate that the government "could have done better" in the purchase of the Ruaraka land that the Education ministry is said to have failed to do due diligence.
There have also been questions about the conduct of some CSs, especially those openly involved in political campaigns. Sports CS Rashid Echesa has been active in public rallies and has often attacked real and perceived enemies. In the latest incident, he was summoned to record a statement following a complaint by Kakamega senator Cleophas Malala with whom they have exchanged harsh words.
With the Cabinet in the spotlight, speculation of a shake-up has been lingering for weeks.
-nation.co.ke