11 discharged in Sh468mn NYS case after application by DPP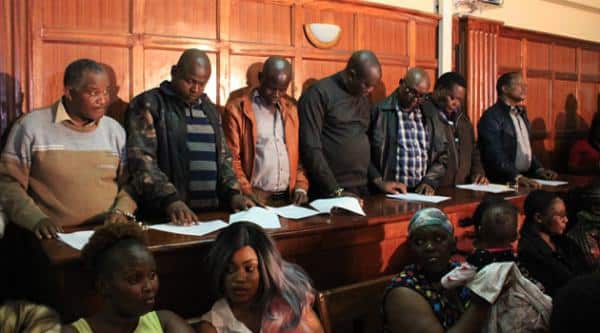 NAIROBI, Kenya, Jan 7 – Eleven suspects in the Sh468 million NYS case have been discharged. The suspects who include Sammy Michuki, the former Deputy Director General and Rogers Nzioka, a senior accountant at NYS among others, are free men following an application by the Director of Public Prosecutions.
Trial magistrate Peter Ooko discharged the accused persons after the chief prosecutor told the court that he does not intend to proceed with their indictment. No other reason was given.
"There are names that we are going to drop as they no longer appear in the consolidated charge sheet," magistrate Ooko heard.
The application by the DPP to withdraw charges against the 11 was made when the accused persons pleaded afresh to the charges during which three NYS case related files were consolidated.
The charges have been withdrawn against them under section 87 (a) of the Criminal Procedure Code.
Following the move, the court directed their cash bail and sureties be refunded to them.
The trial of the remaining accused persons was pushed to Tuesday and will run consecutively for a month after two accused persons, Bernard Masika and Charles Makau, failed to show up in court allegedly because they were not aware that the proceedings were taking place Monday.
Summonses have been issued requiring them to appear in court. 
By RACHEAL MBURU